Gearbox Software – the studio behind Borderlands – have unveiled a bunch of information and an epic trailer for their newest IP, Battleborn today ahead of their grand showing at E3 in a few weeks' time.
Battleborn is a "MOBA-like" first-person shooter "for every kind of badass" with story modes available to play alone or alongside up to four other players through co-op via splitscreen and online. The cool part is that the entire narrative can absolutely be played completely solo and you can replay missions to get even better loot the second time around.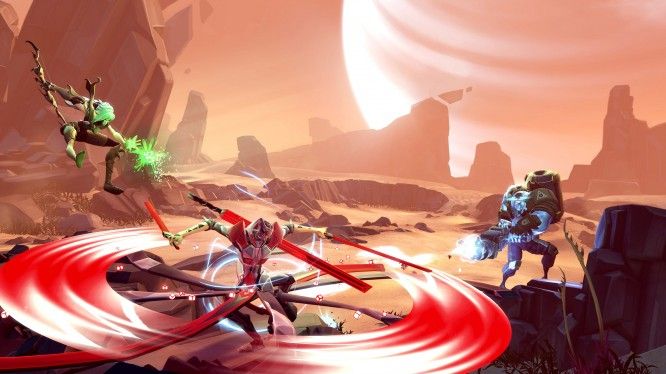 The 'Persistent Progression System' means that every experience point, however it is earned, goes towards your individual Character Rank, which goes up to rank 10 and allows you to swap out augments in your helix skill tree and unlock various skins. Experience will also go towards your player profile Command Rank which can unlock badges and titles, as well as loot to use on any hero.
On launch, Battleborn's multiplayer will feature three distinctive game modes. Incursion has teams of heroes defending their bases from waves of AI minions, while attempting to destroy their enemies base alongside their own AI minions. Devastation is a death match wherein teams of heroes must capture and hold objectives to win the match. And Meltdown requires teams of heroes to protect their minions as they march to their death at the center of the map, with points score for minions who throw themselves into the incinerator.
Battleborn will be released this Winter for PlayStation 4, Xbox One, and PC. For more information, visit their website.
Source: Gamespot
Related:
Battleborn
,
FPS
,
Gearbox Software
,
MOBA
,
News
,
Shooter
,
Video