If your next patch warrants its own website, then you know big things are coming. Described in the announcement as the largest update to the MOBA-style brawler since launch, the upcoming Battlerite Summer Mega Patch is chock-full of content including a brand new Champion, several new gameplay modes, and a selection of other quality-of-life features.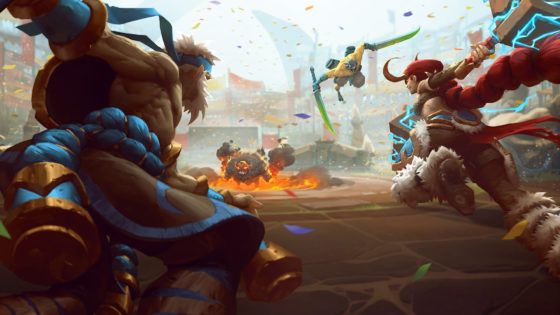 The newest arrival to the Battlerite roster is Blossom the Forest Mender. Described as a beginner-friendly Support character, Blossom is a faun from the Silverdeep forests. She attacks with a suitable array of nature-based powers, including a healing tree, an acorn ranged attack, and a barrier of wind that blocks attacks created by her bird companion Maxwell.
There's more to this Mega Patch than just a new Champion, of course; 11 new Legendary outfits, graphical updates to 10 members of the existing game's roster, an update to the game's Quest system, and an improved Arena experience with new sound effects and a new sudden death mechanic are all due to arrive as well.
The upcoming patch will also bring a new Campaign Mode to get new arrivals familiar with Battlerite, and a new Weekend Brawl that tasks players with controlling a Rocket Balloon to take out the opposing team's Guardian and halt foes from respawning.
The Mega Patch is arriving on Tuesday, June 27th. More details can be found at the aforementioned website, and a trailer for Blossom can be seen below.
Our Thoughts
This is a pretty significant update to Battlerite indeed, offering features that make this upcoming title feel a lot closer to final release than an early access brawler. We're definitely eager to see how these new features shake down once they land in the arena!
Source: press release
Articles Related to Battlerite
Battlerite Lite is the Free to Play Version of the MOBA Brawler
Battlerite Early Access Impressions
The MMO Alpha and Beta List: May 26, 2017
Related:
Battlerite
,
MOBA
,
News
,
Online Brawler
,
Patch