Who would have thought that a bandwagon would end up looking like a large flying vehicle that coasts over a single island? Battlerite battle royale mode will, indeed, be a thing as the MOBA-combat brawler will trade in arenas for a much larger piece of gameplay real estate.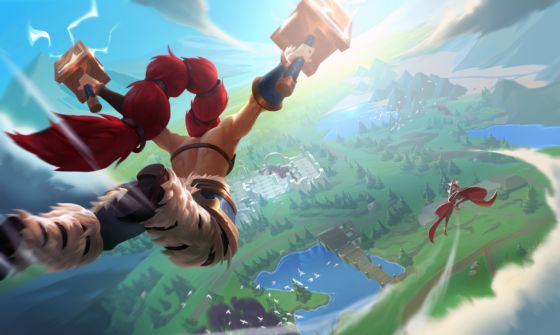 The so-called Battlerite Royale game mode works the same way as other battle royale titles. 20 players will drop into an area that's 30 times larger than Battlerite's existing combat arenas and will have 10 minutes to find items, take out other players, grab their loot and be the last one standing. Play will work in either solo or duos mode.
The devs believe that Battlerite's top down MOBA combat and controls will set Battlerite Royale apart from the ever-growing pack. "We want to give players the excitement of a Diablo-esque exploration experience combined with the character variation of a MOBA and the thrill of a survival game," explains Stunlock Studios' marketing director Johan Ilves. "That said, I think anyone who's looking for a fresh and different take on the Battle Royale genre will have a blast."
The press release did not add any additional details about release date or testing dates, but information on those fronts should be arriving soon.
Our Thoughts
Okay, benefit of the doubt here. Considering the combat model of Battlerite and its top-down perspective, it's very possible that Battlerite Royale will at least feel a bit different from other games of its ilk, especially if not having long-distance sight lines is a thing. We'll wait and see how this new mode actually looks in action before we completely pass judgement one way or the other, but with that said, we suspect Battlerite Royale definitely has a lot of work to do if it wants to impress.
Source: press release
Articles Related to Battlerite
Battlerite Launches its First Season
Battlerite Launches Free to Play
First Look at Paladins: Realm Royale
Related:
Battle Royale
,
Battlerite
,
MOBA
,
Multiplayer
,
News