Even PvP arena battlers are getting in the Halloween spirit! The latest Battlerite Halloween Update will introduce some new champions, a selection of spooky items and several adjustments to the existing roster.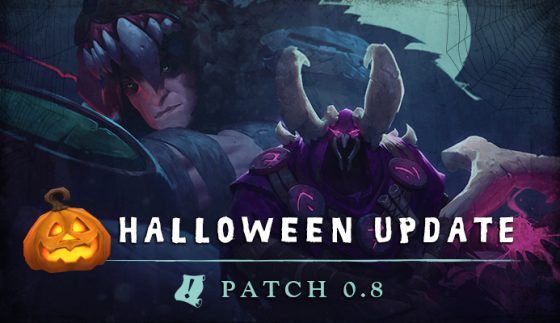 Update 0.8 will add two Champions to the game's roster: Jumong the Beast Hunter and Ruh Kaan the Crypt Warden. Jumong carries the expected kit of any classic fantasy hunter, with a longbow and a debilitating bear trap. Ruh Kaan adds the spooky darkness with powers that draw enemies in to his scythe and the ability to transform in to a monstrous giant.
The Halloween update will naturally add Halloween content, with a new nighttime arena and thematic items available to claim through the new Halloween Chest. Each chest carries some mounts, weapons and more, and every chest will carry a guaranteed Epic-quality item. For those who have purchased the Ultimate Fan Pack, an exclusive Battle Wolf mount will be offered, while everyone who has joined the game's official Steam group will receive a free Halloween Chest and a rare weapon for Ruh Kaan.
It's not all about Halloween in the new patch, with several improvements to the game being applied. In specific, matchmaking will see Unranked and Ranked queues as well as the ability to queue for 2v2 and 3v3 matches simultaneously. Also listed are new Legendary weapons, new mounts, changes to HUD and visual effects, plugging of memory leaks and various other bug fixes.
Update 0.8 is also bringing several adjustments meant to increase the viability of the game's roster. "We've looked more at trying to create battlerites that are fun to use and/or allow for different playstyles, rather than to specifically find battlerites to perfectly balance the game," reads the post. "There can be some imbalances, which we of course will address when we can, but it's a secondary goal compared to diversifying the battlerites."
Complete information about Update 0.8 and all the changes to the game can be read here.
Our Thoughts
We really like the idea of making Champions in the game more fun instead of focusing on achieving a flawless balance. Of course, that likely won't stop complaints or calls for nerfs and buffs, but we hope the focus on making the game enjoyable is embraced by the players.
Your Thoughts
What do you think about Update 0.8? Are you going to try out the new Champions? How do you feel about the adjustments to the game's roster? Tell us below!
Source: Steam page
Articles Related to Battlerite
Battlerite Early Access Impressions
The MMO Alpha and Beta List: October 21, 2016
Blizzard Replaces Arena Mode for HotS with Heroes Brawl
Related:
Arena
,
Battlerite
,
MOBA
,
News
,
PvP