Battlerite has been in early access for a little while now, and we know that the game will be offered for free. But just what does free-to-play Battlerite look like? It looks a lot like Battlerite Lite; all of the taste of the online MOBA-style brawler with fewer calories!*
*Calories here refers to playable characters along with other adjustments. Read on for further details.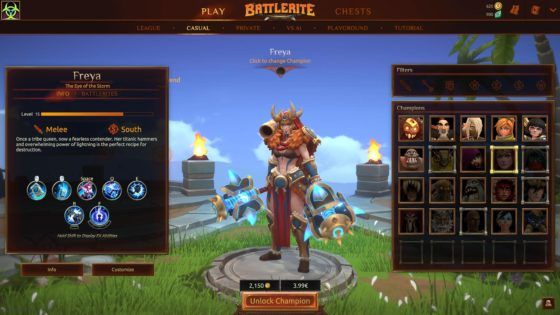 Battlerite Lite was actually inadvertently revealed through early access key giveaways, which offered certain players access to a slightly limited edition of the game. The game's free-to-play incarnation will offer a roster of six "beginner friendly" characters, with one regularly available character and five other roster members offered on a free rotation. The remaining roster can be unlocked with real money or Battle Coins, which are earned through Daily Quests, and the rest of the game will be otherwise freely available.
Other features coming to Battlerite include a revamped Quests system with multiple quest types and rewards in addition to Daily Quests, account levels that offer players long-term progress and rewards, and the introduction of a new Gems currency for the in-game store that will replace individual Steam Wallet purchases.
All of the upcoming changes are intended to parallel with Battlerite Lite's launch, which still has no hard date as of yet. More information can be found on the official site.
Our Thoughts
Battlerite Lite sounds like a good entry point for the game, though we're not clear on the strength of the "beginner friendly" characters versus those that are freely available to early access buyers. We're certainly interested in learning more as development on this battler continues.
Source: official site
Articles Related to Battlerite
Battlerite Sales Hit 500k Units
Battlerite Early Access Impressions
The MMO Alpha and Beta List: May 26, 2017
Related:
Battlerite
,
Free to play
,
MMO
,
MOBA
,
Online Brawler