We all know that the Battle Royale Pox (scientific name Bandwagonus Hoppinonit) is a thing that's hit Battlerite, but all we had at the time was word that it was happening and some pieces of concept art. Now, Stunlock Studios has provided a little more context in the form of some new Battlerite Royale screenshots.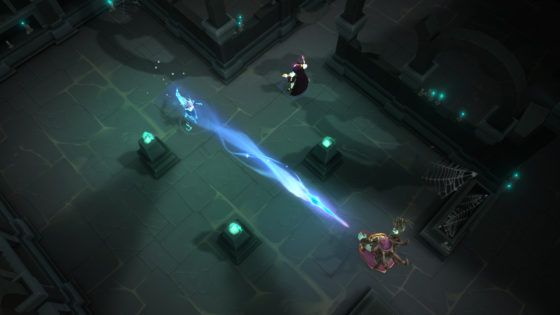 The shots in question are part of a greater explanation shared by the devs in their latest blog, which provides more information on Battlerite Royale's overall mechanics.
When the match begins, your chosen Champion is stripped of their abilities and must wander the map in order to find those abilities along with equipment and consumables, all the while surviving long enough to be the last person or duo standing. Pretty standard stuff.
According to Stunlock Studios game director Peter Ilves, Battlerite Royale is something of a natural progression for the base game. "In a way, Battlerite already offered a number of core Battle Royale elements, such as elimination and the Death Vortex," said Ilves. "Scaling up this experience was something that came to us quite naturally."
Battlerite Royale is due to arrive to Steam in July of this year. You can read up more about the mode here
Our Thoughts
So the first thing that strikes us is the fact that the field of view isn't being widened, which could mean more compact fights on account of Battlerite Royale not having the long-distance sight lines that other battle royale titles have. Otherwise, nothing terribly remarkable here, which might be an issue for what's fast becoming a very congested sub-genre.
Source: press release
Articles Related to Battlerite
Battlerite Announces a Battle Royale Mode
Battlerite Launches its First Season
Battlerite Game Page
Related:
Battle Royale
,
Battlerite
,
Battlerite Royale
,
MOBA
,
News