It appears to be a pretty banner close to 2018 for Black Desert Online. BDO registered users have hit a new milestone while the sandbox MMO's SEA version has won itself an award for Best MMORPG during an awards show in Thailand.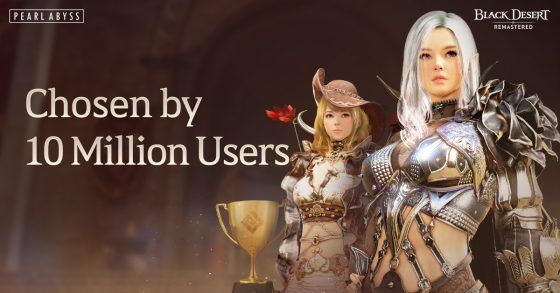 The 10 million user milestone will be celebrated in-game with three events that will run for the next three weeks. "The Choice of 10 Million" will start things off, granting players a reward of the newly added Cliff's Weapons which can be exchanged into Gold Bars.
A login event will also run from Nov 1-14 that will give out goodies like a Shakatu's Luxury Box, five Artisan's Memory items, and 50 Advice of Valks items. As for future special events, information on that front should arrive in the coming weeks.
The user count coincides with a win of Best MMORPG of the Year during this year's Thailand Game Show for the SEA version of BDO — an award that's come to the title after 10 months of live service in the region.
"On behalf of the Pearl Abyss team, I would like to thank the SEA Adventurers," said Pearl Abyss head of business Youngchul Ham. "We've come to learn and appreciate so much about Southeast Asia during our 10 months of service in the region. We look forward to continually adding more exciting game contents and growing with our Adventurers."
Our Thoughts
Congratulations certainly are in order for Black Desert Online's teams. Clearly, the game has snared itself a pretty dedicated group of players and we hope to see that fanbase continue to enjoy itself and the game continue to grow.
Sources: press releases
Related:
BDO
,
Black Desert Online
,
Event (In Game)
,
Event (Real Life)
,
MMORPG
,
News
,
Sandbox MMO
,
Sandbox MMORPG