One of our favorite holidays is slowly making an appearance in all MMOs and Black Desert Online is no exception. Running from October 19 to November 9, the Black Desert Online Halloween event is bringing a variety of seasonal activities and rewards for players to enjoy.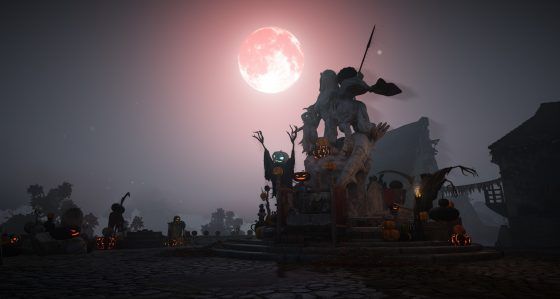 To get us in the spirit of the season, for the duration of the Halloween event the skies of Black Desert Online will be illuminated with an eerie blood red moon and jack-o'-lanterns will light the misty town streets.
Players will be able to login daily to collect Halloween candy which can be traded for special rewards. They can also hunt a special, spooky foe for one of the event quest items.
A limited-time Halloween Item bundle is also available during the event, and it includes an exclusive Bloody Suit costume, a Ghost pet, a Skeletal Horse Equipment skin, as well as a Halloween furniture set and Decor set.
Another update includes the addition of the Horse Racing mode to Black Desert Online. With the new Horse Racing mode, adventurers can now see how their horses measure up to the competition by racing other players in ranked matches. The official guide is available on the Black Desert Online forum.
Our Thoughts:
The atmosphere looks pretty great in the Halloween-themed trailer and we'd definitely like to partake in festivities set in such a beautifully spooky decor. Otherwise, there's always trying to beat our friends in a race if boredom strikes.
Your Thoughts:
Are you excited to celebrate Halloween in Black Desert Online? Will you be purchasing an item bundle or are the free rewards sufficient for you? Let us know in the comments below!
Source: official website
Related:
Black Desert Online
,
Halloween
,
Kakao Games
,
News