This past weekend was the FESTA event in South Korea where a number of new things were shown off in a Black Desert Online update showcase. Players of the game can look forward to another new class, a brand new region to explore, and a host of updates to existing systems.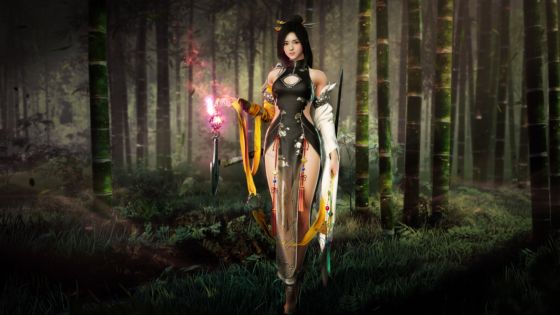 First off, the new class, a female martial artist who wields a crescent scythe in the main hand and a short sword in her off-hand named Lahn. This new class is also capable of dashing through the air at high speed because martial arts.
The new Dreegan region is an area that is populated by ferocious dragons, so those who are looking to explore the zone will want to form up with a party lest they find themselves face to face with a dragon from Dreegan.
A laundry list of adjustments to the game's systems are also set to arrive. The game's quest systems and tutorials will be receiving an overhaul; UI adjustments are in the works to clean up the screen while in combat; standard main weapon skills will receive adjustment to bring them on par with Awakened skills; players will get to fuse certain skills of their choice to make new abilities without needing to follow existing fusion formulas; and the game client is shedding weight as its file size drops from 51 GB to 27 GB.
The announcement does not detail when these updates are set to arrive on either the Korean or Western versions of the game, but more information should be expected on the game's website. Until then, you can take a look at a teaser of the new class in the video below.
Our Thoughts
That…is a LOT of new stuff coming to Black Desert Online. We expect that there will be more details on dates over the course of next year, but in the meantime we're definitely curious to know which of these upcoming updates you're most interested in seeing, so be sure to let us know in the comments!
Source: press release
Articles Related to Black Desert Online
Black Desert Online Addresses Hidden Item Stats
Black Desert Online Takes Names for Southeast Asia Closed Beta
Black Desert Online Will Add Spanish Language Support
Related:
Black Desert Online
,
News
,
Roadmap
,
Sandbox MMO
,
Updates