The march of new things to swing your fists, swords or pistols at in Blade & Soul keeps on coming. Blade & Soul's Fire and Blood update has gotten its early details, including word of instanced content and release date as is often the case for this action MMO's regular updates.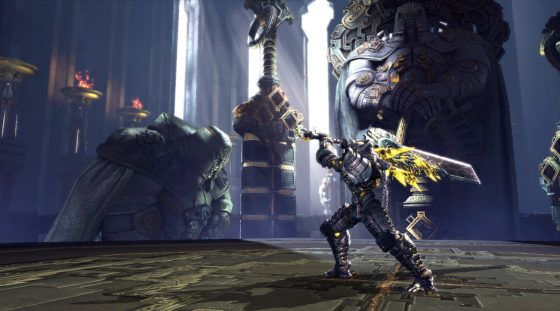 Fire and Blood will offer up two instances for players to take on this time around. The first, Emperor's Tomb, is a solo area that will have players taking on both automated sentries and Blackram Marauders as they look to stop Chol Mugo's blood magic ritual and save captives. Once that's cleared, players get access to the six-person Ransacked Treasury Heroic dungeon, where parties must face off against Blackram under the influence of a powerful artifact.
Naturally, clearing out this new content will offer a variety of rewards, including a new costume and eye adornment, a new weapon, a new Soul Shield, and a variety of upgrade items. Players also can get a new Hellion Necklace which can be upgraded to the latest legendary accessory in the Summit's Call set, and an Imperial Mark item that can be traded in with other items for a Heptagonal Obsidian.
All of the stuff in this update is due to arrive on Wednesday, March 21st.
Our Thoughts
Ah, the Blackram Pirates. The endless thorn in the sides of many Hongmoon School descendants and the Earthen Realm entire. This update doesn't exactly have a huge wealth of content, but added stuff to do is not really an awful thing and the dungeons in Blade & Soul are generally a good time, so we're always glad to see more added on.
Source: official site
Articles Related to Blade & Soul
Blade & Soul's Anniversary Update Goes Live
Blade & Soul Opens the Lost Continent
Blade & Soul Revolution: Second Blade & Soul Mobile Game Announced
Related:
Blade & Soul
,
MMO
,
News
,
Update