What's a big content expansion in an MMO without new instanced content? Probably a sandbox MMO, but as far as Blade & Soul's upcoming Lost Continent dungeons and raid are concerned, they're definitely a thing that players can expect.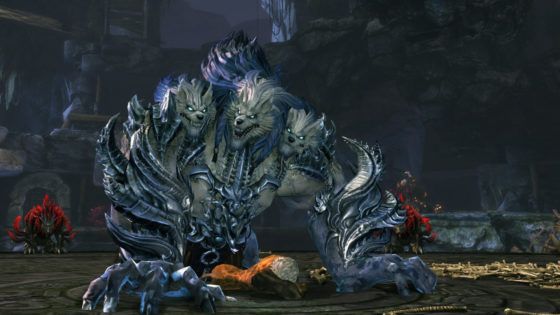 The Dawn of the Lost Continent update will introduce a new 12-player raid, two 6-player Heroic dungeons, and one solo Heroic dungeon:
The raid is Snowjade Fortress, which will see players square off against Asura once again as he licks his wounds and immerses himself in Dark Chi. It's up to players to stop him once and for all. The raid is for level 55 and Hongmoon Level 10 players.
Starstone Mines is one of the 6-player Heroics, where level 55/Hongmoon Level 15 players must stop the werewolf-like Volkami from kidnapping innocent locals to work in their mines.
The other 6-player dungeon is Hollow's Heart, an ancient forest that was the ancestral home of the Khashabi Tribe. Players will be asked to rescue a Khashabi scouting party and possibly cleanse the corruption from the area. This dungeon is also for level 55/Hongmoon 15 players.
Finally, the solo dungeon is Outlaw Island, which is the site for the Blackram Battle Royal. Players will have to defeat Yeoharan as quickly as possible in order to make the Outlaw Island leaderboard for weekly and seasonal rewards. Those who manage to break into the top 30 at the end of this season will get a unique costume that can be worn for 60 days.
Our Thoughts
There's certainly lots to look forward to when it comes to dungeon running in this next update to Blade & Soul, but we've got to ask: why a temporary reward for the Outlaw Island to 30? Temporary cosmetics are just the worst. Still, we hope that Blade & Soul fans look forward to the new content.
Source: official site
Articles Related to Blade & Soul
Blade & Soul 2 Unveiled as a Mobile Title
Blade & Soul Revolution: Second Blade & Soul Mobile Game Announced
Blade & Soul Appears to Be Console-Bound
Related:
Blade & Soul
,
MMO
,
News
,
Update