Blade and Soul's Dark Origins update looms and one of the challenges facing players in this new content is a Heroic dungeon and two new Raids. New posts from the official site has offered a quick peek at these new locations, along with the rewards awaiting those able to take them on.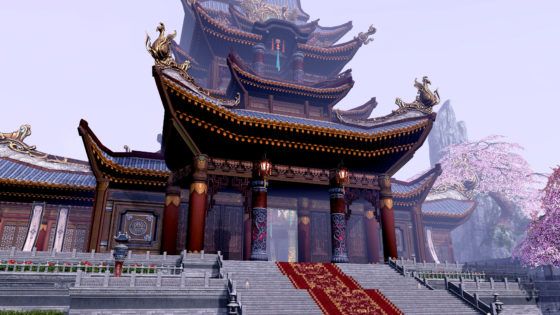 The new dungeon is called Ebondrake Lair, a temple within the walls of Gunwon City where forbidden rituals are said to be performed. Ebondrake Lair awaits at the end of a quest line where the past of familiar foes will be uncovered. The instance is for six players and is described as tuned for "experienced warriors".
For the raiders, two new instances are on the way: Scion's Keep and the Temple of Eluvium. Scion's Keep continues the sidestory that began with the Irontech Forge and pits players against the brunt of the Iron Army's elite force. In the Temple of Eluvium, players will need to contend with the spirits of fallen Aransu clan mates and a host of living statues. Both of the raids are for 24 players.
Those who clear Ebondrake Lair will receive rewards such as a material for Raven Weapon stages 7 and higher, a new ring that upgrades to a PvP-focused legendary accessory, and a unique outfit. Both raids will have weekly lockouts, with rewards like Legendary Fallen Soul Shield shards and unique cosmetics.
Dark Origins is set to arrive on Wednesday, August 16th. More about the dungeon can be found here, and information about the raids can be found here.
Our Thoughts
We're almost certain that the instance playing segment of Blade and Soul is ready for a new challenge, and we certainly hope that the Ebondrake Lair and the new raids provides it to them. We wish those players good luck and good fortune from the RNG Gods!
Sources: official site 1, 2
Articles Related to Blade and Soul
Blade and Soul Appears to be Console-Bound
The Irontech Forge Opens in Blade and Soul
Blade and Soul KR Reveals the Maestro Class
Related:
Blade and Soul
,
Dungeon
,
MMO
,
News
,
Raid