Have you been sitting around in recent weeks wondering to yourself if Blade & Soul will ever get a western release? All signs point to yes, although exactly when is still unknown. As of tomorrow it will have been a year since we received our last official news posting for Blade & Soul. It seems though all is well, according to a recent news post on  the professional oriented social network Linkedin, NCSoft is currently looking for a community manager and brand manager for the project.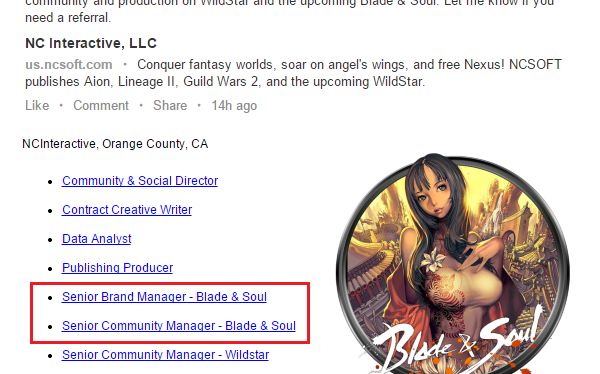 It's been nearly two years since NCSoft announced they would be handling the localization. Since then we have received only intermittent information  Even though we now have a glimmer of hope that Blade & Soul will reach our shores, there is still cause for concern. A lack of official information from NCSoft shows that the project may still be on the back burner. I sincerely hope we start getting some more consistent updates from the NCSoft team. While fans of the genre might have renewed faith in the project, time will tell.
It's possible with a brand and community manager coming on board that we might see more updates from NCSoft in the near future. We will be sure to update you will more information as we receive it.
Related:
MMORPG
,
NCSoft
,
News
,
Update