It's the holiday season in the Earthen Realm with the upcoming Blade and Soul Winter Festivities, as players will get to experience the festive time of year with new outfits and some new content.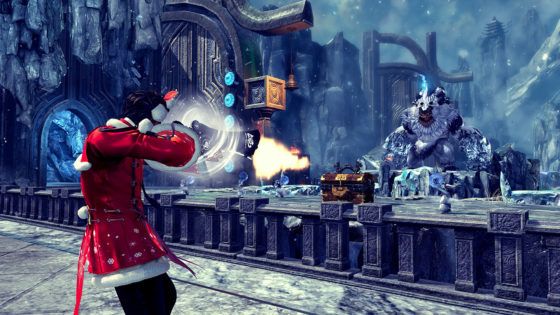 A daily-reset dungeon known as the Frozen Firing Range is the prime feature of the new update, which will see players grouping up to keep angry Frost Banshees and a giant Frost Yeti from trying to escape through the judicious use of firearms. Groups that can clear the content in the most efficient manner will earn bonus rewards, including a Snowflake Crystal currency that can be used to purchase items such as a Flawless Sparkling Hongmoon Hexagonal Peridot. The dungeon is open to players level 16 and up and is live until January 18th.
The Hongmoon Store will of course be offering a variety of thematic goodies, including a Holiday Gift Bundle full of items that can be sent to friends, a selection of holiday costumes, and the 12 Days of Wonder advent calendar which offers surprise bundles each day from December 13th through the 30th.
The Merchant of Wonders will also be returning, making appearances in several dungeons with a variety of deeply discounted items for players. The Merchant appears randomly at the end of the final boss fight, and provides players with the chance to purchase unique costumes and a variety of in-game consumables.
The Winter Festivities are on now, and a trailer showcasing a bit of what's on offer can be watched below. More details of what's on offer can be read here.
Our Thoughts
Nothing says "holidays" like using firearms and dressing up in cute outfits! The Winter Festivities look to be loaded with lots of things for players to collect, and we're eager to see what players think of the festive event.
Your Thoughts
What do you think of the Frozen Firing Range? Are you getting the outfits you have hoped for? Share your experiences with us in our comments!
Source: official site
Articles Related to Blade and Soul
New Blade and Soul Skill Trees Arrive on Korean PTR
Blade and Soul Gunslinger Class Unveiled at G-Star
Blade and Soul Competitive Update Reveals Tournament Plans
Related:
Blade and Soul
,
MMORPG
,
News
,
Seasonal Event