Nothing says "MMO gaming encounter" quite like fighting a horribly giant bug monster. This is one of the challenges that will arrive to players of Blade & Soul in the upcoming Rage of the Hive Queen update, which has been detailed and dated.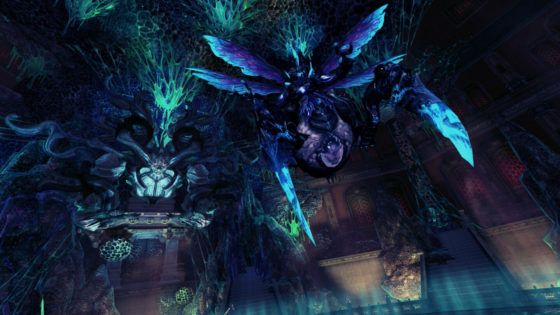 The Hive Queen in question is a reference to a new boss coming to the Temple of Eluvium, where players will continue to chase down Zulia. Naturally, she's not making it easy, throwing harpies, Augerites, and fiends in your path before taking her on Zulia herself as the titular Queen of the Hive.
The Aransu School storyline continues as well with the addition of the Great Aransu School itself, an encounter featuring corrupted thralls and various other twisted former guardians of the once-vaunted location.
Halloween is also on its way to the Earthen Realm in the form of Blade & Ghoul. The Merchant of Wonders is coming back once more with the opportunity for players to purchase randomly selected items such as themed cosmetics. Players can also complete Daily Challenges to earn a Ghoulish Gift Box, or they can complete the Raven's Cry and Chasing Zulia weekly raid quests for increased rewards and a chance at cosmetics from each raid.
Rage of the Hive Queen is coming to Blade & Soul on Wednesday, October 18th, while the Blade & Ghoul event will run from October 18th through November 8th. Information is available on Blade & Soul's website
Our Thoughts
Looks like the raiding segment of Blade & Soul will be pretty busy come this update. We also think that Halloween outfit pictured on the website looks super adorable. Overall, we hope this will be an entertaining chunk of content for fans of the MMO.
Source: official site
Articles Related to Blade & Soul
Blade and Soul Previews the Instances of the Dark Origins Update
The Irontech Forge Opens in Blade and Soul
Blade and Soul Appears to be Console-Bound
Related:
Blade and Soul
,
MMO
,
News
,
Update