With Bless Online heading to Western shores, it's important for the game to make a solid impression, which explains the reasons provided by the developers on the current Bless Online Western delay.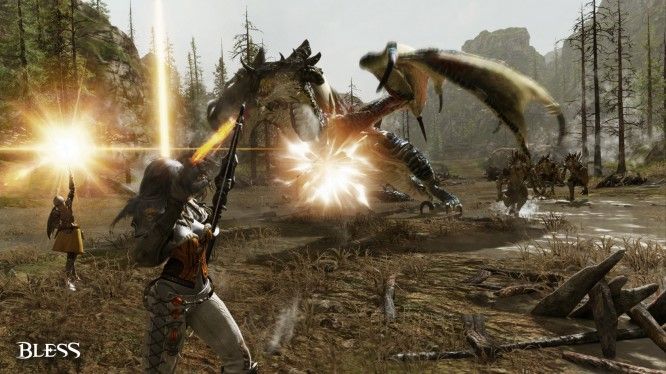 According to Aeria Games, developer Neowiz is taking some extra time to improve the game. Specifically, the developers are looking to improve performance and the combat system.
Performance improvements will largely be focused on the large-scale content in Bless such as the Siege of Castra, as well as loading time improvements for monsters and textures in the open world in order to make things faster and more seamless.
Combat overhauls focus on the game's targeting system, with aim targeting and auto-aim sensitivity being tweaked, along with a lock-on feature being included. There are other improvements to combat such as UI changes being worked on, though full details will be provided at a later time. Neowiz are also taking a look at several quality-of-life improvements, chat improvements and a better world map.
The ultimate goal is that the updates will provide "a better version of Bless to all", according to the post. A previous posting on the same forum in September expressed the team's insistence on making sure the Western release is up to standards. "[Bless' Western launch] is bigger than expected and the game needs a couple of tweaks to be able to penetrate the western MMO market and to have a stable and sustainable future," reads the post. "I understand from a player perspective that it sucks to wait for a game for an indefinite amount of time but on the other hand, it is going to be above your expectations."
Our Thoughts
In times of in-development and early access MMOs, it's wise that Aeria Games and Neowiz are willing to make sure Bless Online arrives to the Western market in as strong of a position as possible. If that means delays, then so be it. Better to have a more complete game than something that's rushed to market!
Your Thoughts
Do you think delaying Bless' Western launch is a good move, or is it frustrating? Give us your thoughts below.
Source: BlesSource via MMO Bomb
Articles Related to Bless Online
Bless Online English Trailer Invites You to "The New Generation"
Bless is Coming to the West
Bless Online World Boss Preview Available
Related:
Bless Online
,
Delay
,
MMORPG
,
News
,
Western Release