The opening ceremony of Blizzcon 2017 was full of reveals, but easily one of the most anticipated was the World of Warcraft expansion reveal and the game did not disappoint. Not only was a brand new WoW expansion unveiled, but plans to have a vanilla Warcraft server were also revealed.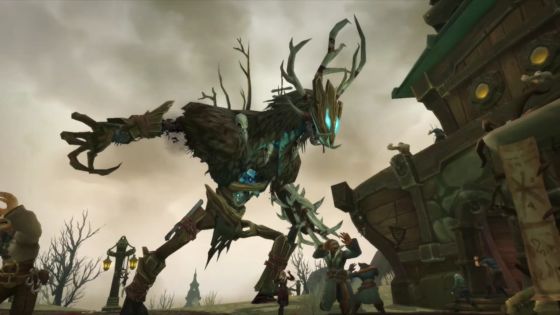 J. Allen Brack took to the stage to first talk about…ice cream. Which, of course, led itself to talking about the flavor vanilla. World of Warcraft Classic was described by Brack as "a larger endeavor than you might imagine" but also promised to have the classic WoW launch experience without all of the classic WoW launch problems. Dates on when this classic server would go live were not revealed, but it appears to be a long way off as Brack said "it's gonna take some time" in his presentation.
Naturally, things for World of Warcraft had to move forward from there, which leads right back to the new World of Warcraft expansion: Battle for Azeroth. As its name implies, this expansion will see hostilities between the Horde and the Alliance renewed as both sides appear to be at each other's throats once more.
Battle for Azeroth will feature a new continent for each faction: Kul Tiras and Zandalar. Players will also see a level cap raise of 120, new dungeons and raids, new uncharted islands for players to explore, the addition of four new Allied Races, and a 20-player co-op PvP mode known as Warfronts.
Release information on World of Warcraft: Battle for Azeroth was not available, but players can opt-in for the expansion's beta as well as find out more details on the Battle for Azeroth website. The opening cinematic for the expansion can also be seen below.
Our Thoughts
Wow! Or perhaps more appropriately, WoW! The reveals from Warcraft at this year's Blizzcon absolutely blew away all expectations. While we certainly were ready (more or less) for a new expansion reveal, we were most definitely not expecting a Classic server announcement! Just…wow!
Sources: Twitch, official site
Articles Related to World of Warcraft
World of Warcraft Novel Could Lead into Next Expansion
World of Warcraft Fan Art is Celebrated in New Video Series
WoW Wednesday: Aquatic Mounts in WoW and How to Obtain Them
Related:
Battle for Azeroth
,
BlizzCon 2017
,
Expansion
,
MMORPG
,
News
,
World of Warcraft
,
WoW Vanilla