If you're a diehard devotee to all things Blizzard Entertainment, then you've already bought your BlizzCon 2018 virtual ticket. If you somehow were curious what's included in this year's digital pass, then allow us to provide you the information that's been forwarded our way, like a free Legendary skin for Sombra and polls that will let viewers and attendees steer what happens in a panel.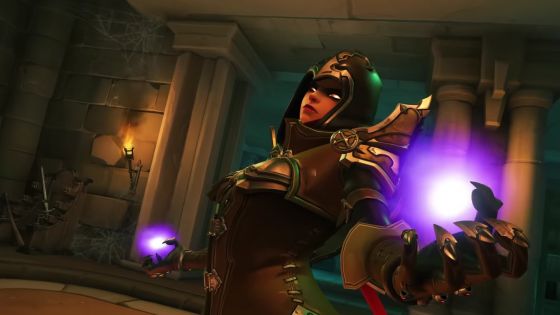 Overwatch kicks off the reveals for 2018's exclusive bundle of virtual ticket digital goodies, dressing Sombra in a unique skin styled after the Demon Hunter class of Diablo. As is usually the case, additional digital freebies will be included for the entire Blizzard lineup, which are likely to be revealed in the coming weeks. There's also the usual physical swag bag on offer as well.
New for this year will be a series of polls that will let both virtual ticket holders and show attendees vote on what they want to see with Build-A-Panel. Specifics on just what these polls will involve were not part of the announcement, but fans are directed to keep eyes on the BlizzCon website for more – particularly since these polls will be running for a limited time.
Of course, there's also the additional bells and whistles like on-demand video access, direct livestreams of the event, exclusive videos and other stuff of that sort. You can get a general rundown/sales pitch of it all here.
Our Thoughts
Nothing we really add here will either heighten one's excitement or avarice at the arrival of the BlizzCon 2018 virtual ticket, so we'll just hope that those attending in meatspace and cyberspace have a great time.
Source: press release
Related:
Blizzard Entertainment
,
Blizzcon
,
Blizzcon 2018
,
Event (Real Life)
,
News