As is tradition for the event, a plethora of BlizzCon in-game goodies are doled out, and this year's assortment of swag has been detailed in a recent post by Blizzard.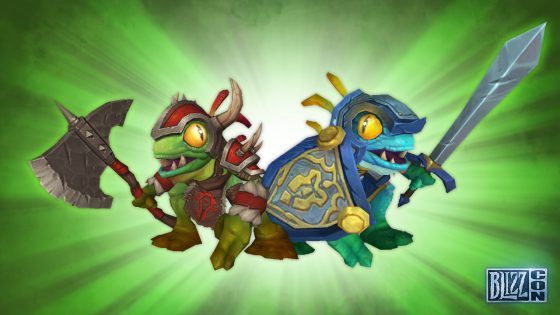 The 2016 grab bag includes two Murloc pets for World of Warcraft associated with either the Alliance or the Horde, a BlizzCon-themed skin for Bastion in Overwatch, a 20th anniversary pet based on the original Dark Lord's design for Diablo III, a Welcome Inn card back for Hearthstone, a Nexus Tiger Mount for Heroes of the Storm and a selection of "mystery goodies" for StarCraft II including a new portrait and priority unlocking of content that will be announced at a later time.
The BlizzCon goodie bag is offered to everyone who either purchased a physical or virtual ticket to the event, and complete details about the offerings can be seen here.
Our Thoughts
Specifically speaking, we want that Tiger Mount to be available in other Blizzard games! Generally speaking, the selection of goodies coming to ticket holders is another fun and covetous collection of digital swag. We always look forward to seeing these offerings and this year's arrangement didn't really disappoint.
Your Thoughts
How do you feel about the BlizzCon grab bag this year? Is there anything specifically being offered that stands out to you? Be sure to give us your thoughts in our comments.
Source: Official site
Articles Related to BlizzCon
BlizzCon 2016 Virtual Tickets Go On Sale
MLG Hosts World of Warcraft Road to BlizzCon
Top MMO News: April 20, 2016
Related:
BlizzCon 2016
,
In-Game Goodies
,
News
,
Rewards
,
Swag