Hearthstone's next expansion has been announced and it's all about the power of irresponsible science. The Boomsday Project will have players using new keywords and features to empower their mechanically inclined cards and decks with unique new abilities.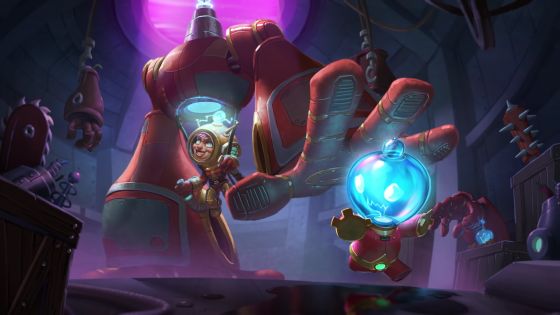 The Boomsday Project introduces the Magnetic keyword, which lets players either use the card on its own or fuse the attributes and abilities of that same card to Mech minions. One such example is the card Spider Bomb, which grants the Mech card its fused to +2/+2 and Deathrattle.
The Boomsday Project will also introduce all new cards with totally unique abilities. One of these new card types are Project cards that apply affects to both players, such as Biology Project that adds 2 Mana Crystals. The other are Omega cards, which are otherwise ordinary when they arrive to the field unless they're played when you have 10 Mana Crystals. An example card is the Omega Defender, which is a 4 Mana 2/6 Taunt minion normally, but gets +10 Attack if you bring it to the board with 10 Mana Crystals in tow.
The new expansion will also feature some new Legendary cards. One of these is a 3 Mana 3/3 Elemental with a Battlecry ability that lets you cast your next spell card twice this turn. Another, Myra's Unstable Element, lets you draw the rest of your cards in your entire deck.
The Boomsday Project will release on Tuesday, August 7th. An additional livestream showing off more cards from the expansion is scheduled for Monday, July 23rd at 10am PST/1pm EDT, but for now you can get the initial details in the video below.
Our Thoughts
Considering the expansion's website isn't up and running at the time of this story's writing, it would appear that the cat maybe was left out of the bag a bit early. That slip-up is every Hearthstone fan's gain, however, as this new expansion definitely sounds like another unique collection of card and gameplay ideas.
Source: YouTube
Related:
CCG
,
Hearthstone
,
News
,
Online CCG
,
Online TCG
,
TCG
,
The Boomsday Project