In a move that will perhaps raise a few eyebrows and unseat some monocles, Brawlhalla developer Blue Mammoth has announced that it will be joining forces with Ubisoft in a move that is promised to bring a long list of good things to the online side-scrolling arena PvP brawler.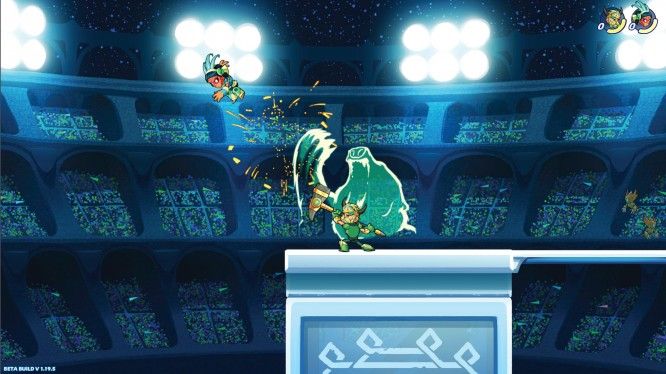 According to the announcement, Blue Mammoth went searching for partnership as a matter of long-term survival. "As we grew up and up, we also began seeing the ceiling for a scrappy, never-say-die indie studio," reads the post. "We realized that to complete our plan and take this crazy game to the next level, we were going to need help."
So, can players expect tissue-thin DRM and loot box shenanigans? According to the post, the new tie-up with Ubisoft will open up more benefits for Blue Mammoth, including slowly growing the studio and getting access to more resources for "long overdue" improvements to the game. What won't change, however, is the game's attitude and direction with regards to its monetization.
"One thing goes without saying, but I will say it anyway: We've worked very hard over the last three years to earn your trust that Brawlhalla will be always free to play and never pay to win. None of that will ever change. Ubisoft shares that philosophy, and that's another reason we agreed to this partnership."
Brawlhalla plans on providing a more detailed roadmap of development updates in the near future.
Our Thoughts
So, yeah, Ubisoft is one of those companies that immediately sets temperatures rising in gamers, but we also have to recalls that the publisher has let devs right the ship with regards to both For Honor and The Division. Perhaps, then, this will indeed mean great things for Brawlhalla. For fans of the game, we certainly hope so.
Source: official site
Articles Related to Brawlhalla
Brawlhalla Game Page
Hyper Universe Launches Ranked Mode
The MMO Alpha and Beta List
Related:
Brawlhalla
,
Industry
,
Multiplayer
,
News
,
PvP
,
Ubisoft