You know, it'd almost be pretty if it weren't for the fact that it also happens to be a life-absorbing sentience. Now, it's coming to Star Trek Online players on console. It's the return of the Crystalline Entity event, this time with a somewhat more buffed snowflake for Captains to take on.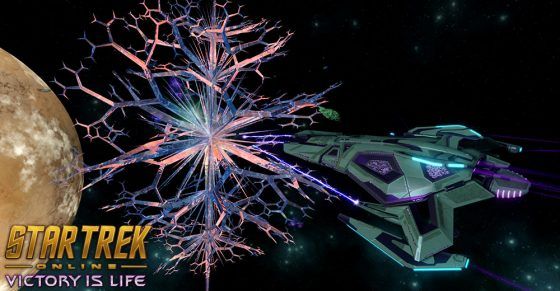 Between September 13th and October 10th, PS4 and Xbox One players between levels 50-65 can take up the Crystalline Cataclysm event and square off against the Entity. Completing the queue will earn you a Crystal Shard once every 20 hours. Collect 14 of them and you'll be rewarded with unique weapons, Dilithium Ore and Marks. After that, players can continue to join the queue to earn additional Dilithium Ore and Marks.
As mentioned before, this version of the Crystalline Entity confrontation has a number of changes. Most notably, Entity shards are now immune to control effects; the Entity will be immune to all damage during its Absorption phase; and Small Shards won't buff the Entity's damage for the entire encounter, instead building buff stacks towards its Energy Release attack.
If you'd like to learn more about the event queue, then be sure to read here for the full details.
Our Thoughts
It will be interesting to know if Star Trek Online players will find these adjustments to the Crystalline Entity fight enough to make it more challenging. That said, we also hope that it doesn't feel like too much of a grind for those looking to unlock those goodies.
Source: official site
Related:
Console
,
Event (In Game)
,
MMO
,
News
,
Star Trek Online
,
STO