Among the many reveals made yesterday for the upcoming Forsaken expansion was the introduction of a Destiny 2 Annual Pass, a bundle of bonus content that just about doubles the price. So, just what the heck are you getting, exactly?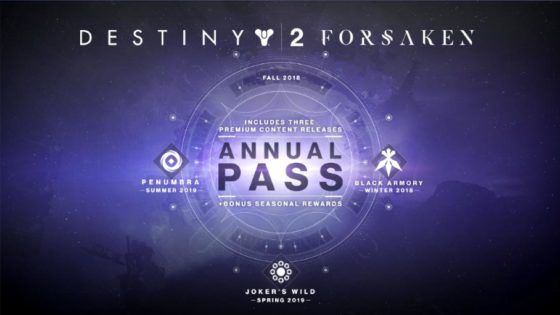 While specifics on just what the Annual Pass will offer weren't outlined, Bungie did clear up the air on what the Pass will not offer: specifically, there won't be any cinematic or story-related content.
A tweet sent out by Bungie yesterday further explains that the Pass is meant to "improve upon the previous Expansion Pass, and will not replace seasonal events and live game updates every player of Destiny 2 can access." To the point of what's next, the devs have updated the roadmap with an outline of what new features all players of Destiny 2 can look forward to, Forsaken buyer or not.
Bungie also sent out another tweet that seems to suggest there will be a bundle that packs together the base game and all expansions, noting that "additional D2: Forsaken product options" will be unveiled later in the year and made available closer to the launch of Forsaken on September 4th.
As for more firm information on the contents of the Annual Pass, that will be part of Bungie's next weekly blog post.
Our Thoughts
…oh…kay? Well, that hopefully will offer a bit of solace to those players of Destiny 2 who don't want to feel like they're missing out on anything if they don't buy in to every expansion release and seasonal or annual pass. That said, the vagueness of these reveals still make us a tiny bit leery.
Sources: Twitter 1, 2, official site
Articles Related to Destiny 2
Destiny 2: Forsaken is Bringing Gun Slot Changes, New PvP and an Annual Pass
Destiny 2's Roadmap Reveals a PvP Crucible Lab
Destiny 2 Game Page
Related:
Destiny 2
,
Destiny 2: Forsaken
,
DLC
,
FPS
,
MMO
,
News