WEBZEN has officially launched the latest content update for its action MMORPG title Continent of the Ninth Seal (C9). The update introduces a new Awakened level system to all C9 enthusiasts.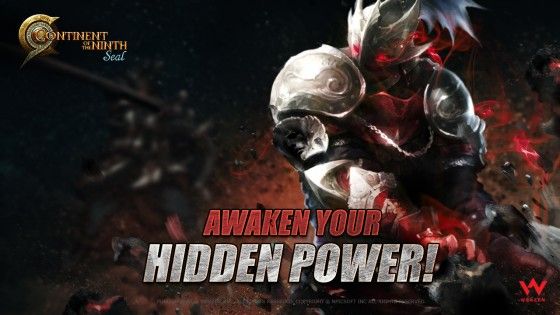 Players with a level 67 character who are holding an Ultimate Fury Skill, and who have completed special quests to prove they're worthy, will receive a hidden power that applies to all their characters in both PvP and PvE. Once players select one of three bonuses, they'll be able to level up the Awakened power to strengthen their bonus even further, up to a maximum Awakened level of 300.
The Awakened level system grants players powerful abilities with no special equipment. The Awakened level and experience is also shared with all characters on the same account, so not just a player's main character will receive a massive advantage, but their alts will as well!
To celebrate the arrival of the Awakened level system, the C9 team will be hosting a week-long event to give out Cosmos Stones, Rentus War Artifacts and more items to players that reach Awakened level 50 or higher. The patch also includes some improvements to the Viking class re-balancing, a Mentor System improvement, bug fixes and much more. To learn more about this latest update, make sure you head over to the official C9 website.
Our Thoughts
Some MMORPGs make it very unappealing to create an alternative account, so the fact that C9 is granting its Awakened level bonuses to all characters on an account makes us very happy. We can't wait to see what some of these new powerful abilities look like.
Source: Press Release
Related:
C9
,
Continent of the Ninth Seal
,
Features
,
MMORPG
,
News
,
Update
,
WEBZEN