Even in a world like Tamriel, people need to get goofy once in a while, and The Elder Scrolls Online Jester's Festival is the event to make it happen. The in-game special event is offering foolish rewards for players who join in on the prankish fun.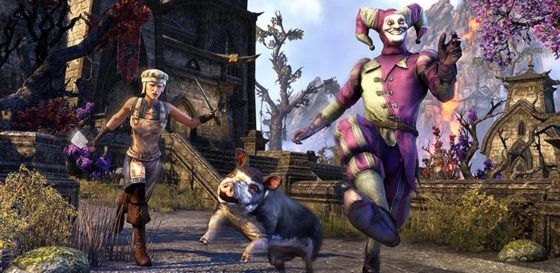 Explained by the lore as a way for the citizens of Tamriel to forget the notions of status, honor, and class, the Jester's Festival is granting appropriately-themed items to players who join in on "epic labors of goofiness". NPCs for the event can be found outside of Ebonheart, Vulkhel Guard, and Daggerfall dressed in guises mocking each faction's ruler.
Rewards for taking part in the event include an expected selection of jester's hats, unique mementos, and a couple of housing items. There will also be achievements for players to earn for participating, and a selection of unique jester-themed items on sale in the Crown Store.
The Jester's Festival begins Thursday, March 23rd at 10 am EDT and runs until Tuesday, April 4th at 10 am EDT. More details about the event can be found here.
Our Thoughts
While it's not exactly an April Fool's event, this is still a pretty good nod to the general spirit of the prankster's holiday. We're certainly curious to know what sorts of tasks we'll be charged with during the span of the event. This could be fun!
Your Thoughts
How do you feel about the Jester's Festival? Are you on board with the concept of the event, or were you hoping for a more April Fool's-styled special event? Let us know what you think in the comments.
Source: official site
Articles Related to The Elder Scrolls Online
Reacting to TESO: Morrowind
The Elder Scrolls Online: Morrowind Preview
The Elder Scrolls Online Player Numbers Hit New High
Related:
Event (In Game)
,
MMORPG
,
News
,
The Elder Scrolls Online