Mad Catz, as a third party gaming peripheral provider has always enjoyed one upping the traditional gaming industry with outrageous peripherals, some of which work better than the real thing. They have not disappointed this year, actually, though they have certainly raised the price margin. This year they have introduced a hybrid controller that actually transforms. That's right guys and gals, it actually changes into different shapes to fit different tastes and play styles. Remember all the complaints you had when the XBOX controller went from being the size of a truck to the size of your average pair of wire cutters? You won't have to worry about that anymore, though we are certain that at least one person will find reason to complain. Still, we're pretty intrigued by the fact that the controller is compatible with almost all devices including PC and Android. You have to admit, that's pretty nifty.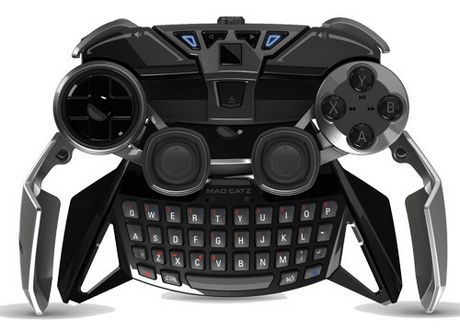 But wait! We haven't gotten to the best part yet! The Madcat L.Y.N.X. comes with a lot of different parts. It features a foldable chassis in three different pieces. It starts with a QWERTY keyboard mount which you can use for your smartphone/tablet, and it even has a travel pouch. Best of all, you can play mobile games on your television with the Mad Catz PlayBig cables.
Finally, the device comes with an app providing you with tutorial videos, profiles for different users, and various settings for you to play with. In the past, I've always regarded peripherals like this to be ridiculous, but here I'm starting to see a useful gaming peripheral that everyone needs to have in their arsenal. The $300 price tag might be a turn off for some, but let's face it, it's probably going to be well worth it.
Related:
CES
,
Event (Real Life)
,
News
,
Peripheral