We're near the Christmas holiday, but the devs of Gloria Victis have not been idle. The newest Gloria Victis Christmas Update applied to the sandbox has improved character creation systems as well as added some other changes in what's called "the biggest update in the entire history of Gloria Victis".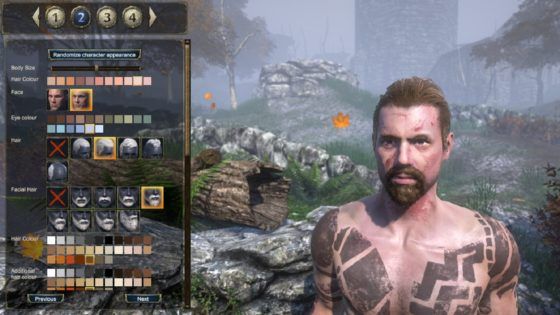 The update in question has completely reworked character models in the game, with a reported 10 times more detail and increased customization options including tattoos, face painting and various other facial details. The character creation interface has also seen an improvement, and players can now shape their avatar's background story by answering a series of questions.
Previously reported settlement upgrade changes are also a part of the new update, with three different towns being reworked; Leaktown, Twinfall and Scarsdale. The update also has introduced a holiday event to Dunfen, Mereley and Lord's Wrath Abbey.
As we approach 2017, the devs have stated their intention to continue to improve Gloria Victis, with particular attention paid to implementing the various new combat animations and adding female character models. Applying upgrades to remaining towns and improving character control and synchronization are also stated as being a focus for current development.
Those who would like to read complete information on what's been added can read the changelog here.
Our Thoughts
Gloria Victis doesn't show any signs of stopping its development, and we're sure those who are watching this sandbox closely are pleased at the new adjustments. We just hope that the team gets a little break for the holidays!
Your Thoughts
How do you feel about the latest changes to Gloria Victis? Are you pleased with the focus of upcoming development? what needs to be added or improved next? Tell us in the comments section.
Source: press release
Articles Related to Gloria Victis
Gloria Victis Dev Update Focuses on Animations and Settlements
Gloria Victis Shares New Animatiosn and Other Adjustments
The MMO Alpha and Beta List: December 16, 2016
Related:
Gloria Victis
,
News
,
Sandbox MMO
,
Update