Announcements for Star Wars Battlefront DLC are coming in from Star Wars Celebration 2016. Specifically, the game revealed Chewbacca and Bossk as playable characters, and Rogue One DLC arriving to the game during the holidays.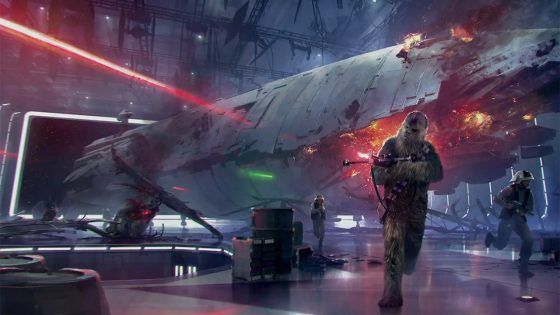 During a panel hosted by Electronic Arts, the playable characters for the coming Death Star DLC pack will be Chewbacca and Bossk. In addition to the new character reveals, there also will reportedly be a larger emphasis on large space skirmishes. TIE Bombers have also been featured, and space combat looks to mix large open maps with corridor-running close-quarters combat, evoking the infamous trench run scene from A New Hope.
Shortly after that reveal, it was then announced by DICE that the fourth and final DLC pack for Star Wars Battlefront will be tied in with Rogue One. The Rogue One DLC will feature the tropical planet Scarif serving as a map and Jyn Erso and Director Krennic as playable characters. No specific release date was mentioned, but the DLC pack will be released alongside the film's theatrical release of December 16th.
Our Thoughts
Rogue One DLC was pretty much a shoe-in for the fourth DLC pack, but getting official confirmation is always better than assumption. Tie this with the ability to play as Chewbacca and it looks like Star Wars Battlefront will be getting a tremendous shot in the arm in the next few months.
Your Thoughts
Are you looking forward to playing as Chewbacca? Flying in a Death Star trench? Or getting int he shoes of Erso or Krennic? Let us know what part of the coming DLC is most exciting to you!
Death Star
,
DLC
,
News
,
Rogue One
,
Star Wars Battlefront