Sure, the VoxElyria build is helpful for feature testing, but at some point or another the Chronicles of Elyria world building is going to have to get underway. The most recent dev blog from the team at Soulbound Studios has announced that they're doing just that. Starting with the important parts like making bunnies.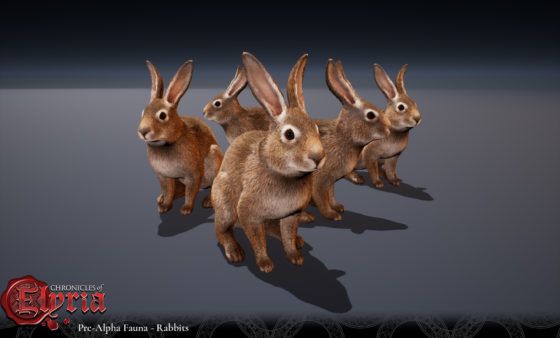 Alright, so bunnies aren't that important, but they are a part of the world that Chronicles of Elyria is slowly beginning to pull together in anticipation of alpha testing. "Whether it was working out the systems governing the enrichment of soil and the growth of plants, working with the content team to help define the cultural elements of tribes, or authoring the reams of data necessary to bring each biome's flora and fauna to life, we rose to the challenge," reads the post.
In addition to all of the flora and fauna, the most recent work has also yielded results in the form of a functional chat for VoxElyria. "Despite the – in some cases literal – mountains of labor related to this challenge, we returned with victory in hand," exclaims the post.
With 0.3.0's work apparently mostly done, the team now moves on to build 0.4.0. and promises more details of what will be included in the near future.
Our Thoughts
We have to say, creating a pseudo-client before putting together a full alpha client is definitely one of the more interesting avenues for open MMO development we've seen. Then again, we've also seen a somewhat similar system employed by Crowfall for a while now to what appears to be great effect, so here's hoping for similar levels of success to the CoE team.
Source: official site
Related:
Chronicles of Elyria
,
Dev Blog
,
News
,
Sandbox MMO