Chronicles of Elyria development is still pushing on, though the team at Soulbound Studios are going to be taking a week off for the holidays. Before they head out, however, there was a new dev blog post outlining work being done on the game's character creation and biomes in the game, along with a little nod to overall testing progress.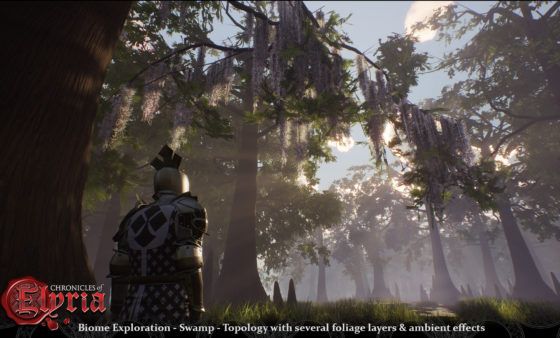 The devs appear to have put together a first pass at a character creation system, with the ability to connect to the game's servers and create a character with the Unreal Engine client. Backend work is still going on to create backend data and client-side visual elements, but it looks as though the initial groundwork is laid.
The devs are also building upon their skin shading features in order to create the various tribes within the game's world, going so far as to consider the three layers of biological skin in the creation of the system. New models for a couple of the game's tribes are also being developed.
New biomes are also in the works and are shown off in the update, with some choice screenshots of a swamp, taiga forest and a rainforest on display. The devs are also looking to further integrate the features of the VoxElyria MUD client with the game, as well as work on crafting and combat.
As it stands right now, Chronicles of Elyria is currently in its friends and family closed alpha test. While no specifics on the length of this test were provided, the team does expect Alpha 1 backers of the game to be able to start testing in early 2018.
Our Thoughts
A lot of these updates aren't what one would consider "sexy". They're downright boring, actually. That said, these are also updates that likely need to be done in order to start branching out into further development and (hopefully) more robust territory. Here's hoping work and testing presses on at the right pace for everyone involved.
Source: official site
Articles Related to Chronicles of Elyria
Chronicles of Elyria Dev Blog Features Females and Filthy Clothes
Chronicles of Elyria Titan's Steppe Video Posted
Chronicles of Elyria Prepares for Meaningful Player Interaction
Related:
Chronicles of Elyria
,
Dev Blog
,
News
,
Sandbox MMO