Everyone is choosing sides as the world prepares for the release of Marvel's newest feature length film, Captain America: Civil War, and it's no different in the gaming world, as civil war breaks loose in Marvel Avengers Academy. To celebrate the release of the film, TinyCo and Marvel have teamed up to release a new limited time Civil War event in the popular mobile game, Marvel Avengers Academy.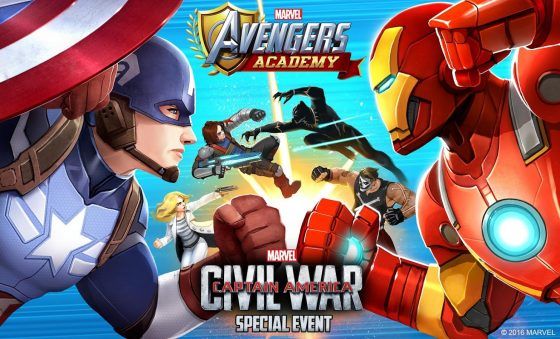 As danger looms due to ever increasing numbers of enemies and the need for heightened security becomes more and more evident, Captain America and Iron Man take up leadership positions in two factions, divided with regards to the form that the new heightened security should take. The students must now make a choice, and side with either Iron Man or Captain America. Every week, players will be able to unlock more of the Civil War storyline, and new quests and rewards will be available during the event as the two sides battle it out in competitions and special activities, competing for control. Additionally, two new students will be coming to the Academy; Bucky Barnes, a.k.a. the Winter Soldier, and the mysterious Black Panther, will be joining the ranks.
Our Thoughts:
How cools! All of us grew up with Marvel Comics – who didn't in the 70's and 80's, right? – and it's cool to see not only a bunch of Marvel Comics based video games, but also so many Movies, and video games that respond to things portrayed in the movies, and, and… you get the idea.
Source: Press Release
Related:
Android
,
Event (In Game)
,
iOS
,
Marvel
,
Mobile
,
News