Music lovers – especially lovers of the Lord of the Rings Online soundtrack – have a little something to be delighted by today. In a livestream that aired at noon EDT today, composer Chance Thomas confirmed that he will be returning to the MMORPG for the Mordor expansion.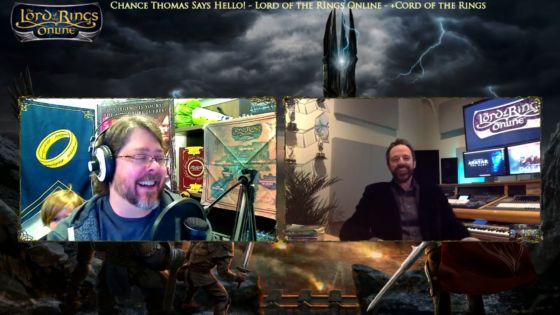 According to the livestream, which featured Thomas and LotRO CM Jerry "Cordovan" Snook, the decision to have Thomas come back to the game was made a long time ago but was delayed from being revealed due to legal matters. "The attorneys, you know, they had to do their thing and get their fingers in it," said Thomas in the broadcast. "Everything got signed yesterday. It's so thrilling to be back in Middle-earth."
Chance Thomas was last on the Lord of the Rings Online team for the Riders of Rohan expansion. In the stream, he expressed his excitement at delving into the soundscapes that the upcoming Mordor expansion can offer. "What a different feel," said Thomas. "I've been going through the art, screenshots…it is, in its own way, incredibly frightening yet also beautiful. It's such a strange juxtaposition. I'm trying to reflect that."
The stream closed with a tease that another big music announcement is due to be unveiled next week. In the meantime, you can watch the full stream on the LotRO Twitch channel.
Our Thoughts
Judging from the reaction inside of the broadcast's chat, this is welcome news indeed. A good soundtrack can definitely set the mood for a game, and we're looking forward to lending an ear to Mr. Thomas' renditions of the Mordor expansion.
Source: Twitch
Articles Related to Lord of the Rings Online
Lord of the Rings Online Update 20 Knocks on the Black Gate
Games Like Lord of the Rings Online
MMO Book Club Brings a Traveling Guild to New MMOs
Related:
Livestream
,
Lord of The Rings Online
,
MMORPG
,
News
,
Soundtrack