We know that Conan Exiles is releasing in May, which means there's a lot of time for changes between now and then. To that point, Conan Exiles Update 32 is bringing some new features to the survival sandbox, including weapon and armor modifications, a weather system, and a variety of new items.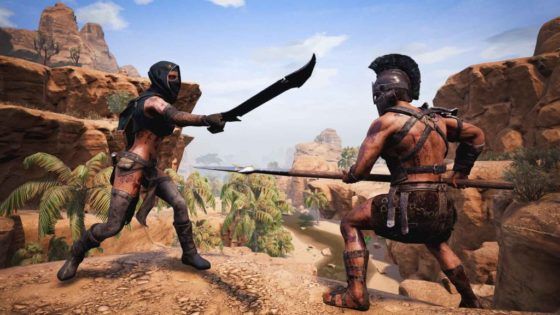 Modification kits are now in the game, granting players the ability to customize their weapons and armor. Kits offer a variety of buffs, including increased damage, reduced stamina cost, and improved armor among others. Each piece of gear can only be improved once and unlocking modifications requires you to earn six new feats: three for armor and three for tools and weapons.
Update 32 is also the first pass of a new weather system planned for the game. The system brings snow, wind and rain to Hyboria, which can grow in intensity into full-blown storms. That said, the majority of the weather system currently appears to be cosmetic though thunderstorms can create lightning strikes. Weather is forecast for the northern regions for now, with plans to spread to other regions soon.
The new update also brings also brings two new full armor sets, a number of new weapons, new harvesting tools, new forms of truncheons and thrall bindings, and several new building pieces. You can read the full details on what's available in the patch notes.
Our Thoughts
New layers of depth and customization are always going to be welcome in a game where survival is the point, so we're sure players of Conan Exiles are interested in seeing what Update 32 has to offer. We hope players have a good time!
Source: official site
Articles Related to Conan Exiles
Conan Exiles Confirms a Release Date
Conan Exiles Launches The Frozen North for PC and Xbox One
Conan Exiles Update Lets You Climb the Walls
Related:
Conan Exiles
,
News
,
Sandbox MMO
,
Survival Sandbox
,
Update