The future is looking very bright for Conan Exiles according to a press release from Funcom, and that future is only going to expand as the company plans some new Conan Exiles announcements for GDC this year.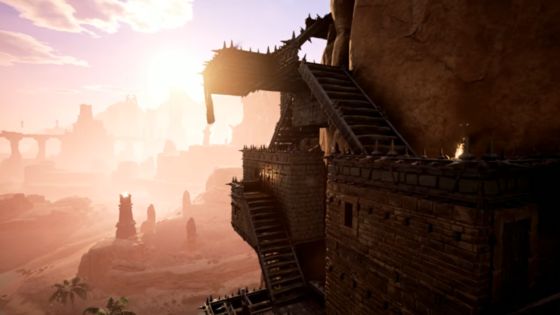 With the game selling 320k copies in its first week on Steam and development costs reportedly recouped, Funcom has a lot to look forward to as well as be humbled by. "Funcom has gone through some challenging times in recent years and seeing the game gain this amount of traction so quickly is very invigorating," said Funcom CEO Rui Casais. "We will do whatever it takes to make sure Conan Exiles turns into a fully-fledged game that has something to offer new and old fans of both Conan and survival games."
To that point, Funcom is planning on talking about future development and features at this year's Game Developer Conference in San Francisco, CA. The game will also be represented at PAX East in Boston, MA, where players can get some hands-on time with the title and score printed copies of the Conan Exiles comic book.
As far as developments in the immediate future, the team has released a dev toolkit for Conan Exiles to let modders tinker with the game, and will now also feature Steam Workshop support. The team has also detailed the launch of new servers, which go online for US players today and will fire up for EU players tomorrow.
Our Thoughts
We're delighted to learn that Conan Exiles appears to be a rousing success, and we're definitely looking forward to hearing about what the game has planned for the future. Even better, we can't wait for modders to get their hands on the dev toolkit and unleash their creativity.
Your Thoughts
How do you feel about Conan Exiles so far? Are you looking forward to the new announcements coming soon? What kind of mods would you like to see for the game? Give us your thoughts in the comments.
Sources: press release, Steam
Articles Related to Conan Exiles
Conan Exiles Pirated Due to Error, Funcom Shrugs
Conan Exiles Customization Includes Male Genital Options
Conan Exiles Servers and Mod Support Explained
Related:
Conan Exiles
,
Early Access
,
Modding
,
News
,
Servers