It's not all about brutal survival and enemy domination in the world of Hyboria, as evidenced by the most recent Conan Exiles building system video. Even barbarians-to-be will need a place to hang their sword…along with the heads of their trophies.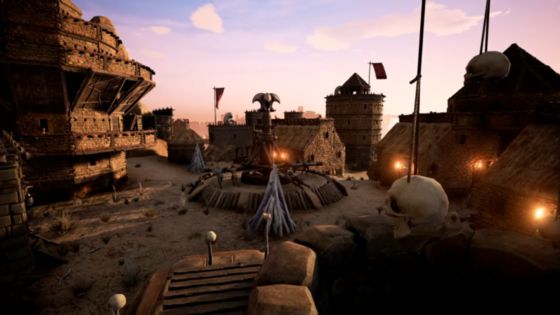 The building system of Conan Exiles requires players to first lay down foundation pieces, which will then allow individual wall pieces that snap in to place to be built. Foundations come in square and triangle shapes and can be combined to create a variety of different structure shapes. Buildings can be placed practically anywhere, even alongside the faces of cliffs.
Once you've built up your desired base of operations, crafting stations can then be built and manned by Artisan Thralls. Forges, tanneries and armorsmith stations are among the stations shown. There's even a small nod to the amount of different decorations players can put in their homes, including the trophies of tough enemies they've taken down.
This being Conan Exiles, there's also mention of buildings being destroyed. All structures are susceptible to attack, though some material tiers are resistant to weapon types. If players are running in to a particularly thick wall, there are craftable explosives effective against all materials that can be utilized.
Of course, the big-budget feature showcased is the ability to build an Altar and summon an avatar of a god, which can wreak untold devastation against an enemy base. In fact, players have been so concerned over the power of these avatars that the devs have responded in a series of tweets.
"You'll need a tier 3 altar and a high priest and once you decide to create the summoning spell you will lose both of them," read the tweets. "When you start the summoning the summoner's location will be broadcast by a shining light from the heavens, and he will be very vulnerable. And then, once the avatar is summoned, it can be taken down by killing the still vulnerable summoner."
The video showcasing the Conan Exiles building system, as well as all the destruction possible, can be seen below.
Our Thoughts
It certainly looks like the systems in place for Conan Exiles are significant, and building structures in the game looks like a great deal of fun. Of course, questions on how many resources will be required remain unanswered, but we'll see how things play out once early access begins.
Your Thoughts
What do you think about the building systems on display? Does this make you curious about Conan Exiles, or do you want to see another system at work? Tell us in the comments.
Source: official site
Articles Related to Conan Exiles
Funcom Reveals Conan Exiles Early Access Date and Trailer
Conan Exiles First Gameplay Trailer Revealed
Conan Exiles Dev Diary Introduces Game World
Related:
building
,
Conan Exiles
,
News
,
Sandbox MMO
,
Video