It's been a long while coming, but at last survival sandbox fans will have a new full title on their hands. Funcom has officially announced the Conan Exiles launch date across all platforms, including pricing information, pre-order goodies, and plans for new updates.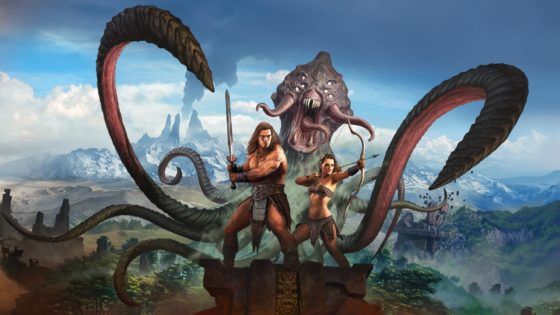 Conan Exiles arrives to PC, Xbox One, and PS4 in both digital and physical editions on Tuesday, May 8th 2018. The game will arrive to PC players at a cost of $39.99, while PS4 and Xbox One players will need to pay $49.99 for the full game.
For the record, PC early access will remain at $29.99 until launch, while the sandbox's price on Xbox Game Preview will shift to $49.99 this week. In either case, purchase of Conan Exiles' early access will grant you full access to the launch version of the game at no additional cost.
If you really want to burn your money, there will also be a limited collector's edition stuffed with goodies such as a 6 inch Conan the Barbarian polyresin figurine, soundtracks, art book, and other collectibles.
Development will press on for Conan Exiles in the meantime, with plans to release new a volcanic area and jungle biome, along with a remade combat system and other new gameplay mechanics. Details on these new features are expected in the coming months. For now, you can check out the launch trailer below.
Our Thoughts
Awesome! We have a full calendar launch date! We're certain that there are plenty of sandbox fans who are ready to see Conan Exiles arrive in full, but we're most intrigued by the alluded to combat changes and new areas. We'll keep eyes on as things develop.
Source: official site
Articles Related to Conan Exiles
Conan Exiles Brings Sprint and Wield Tweaks to Test Server
Conan Exiles Launches The Frozen North for PC and Xbox One
Conan Exiles Update Lets You Climb the Walls
Related:
Conan Exiles
,
Console
,
Launch Date
,
MMO
,
News
,
PC
,
Release Date
,
Survival Sandbox