After a much anticipated countdown over the past few days, we finally got to see the Conan Exiles first gameplay trailer today! The trailer gives us a glimpse into the brutal world of the upcoming open-world survival MMO, with a look at combat, weather effects, and crafting as well as destroying structures.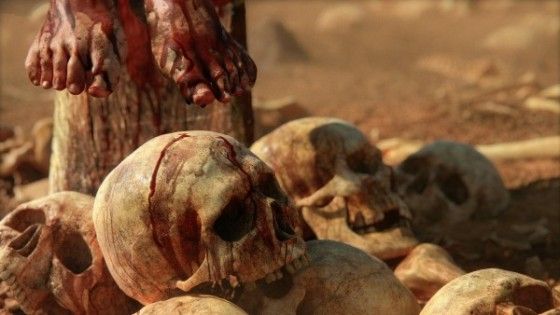 According to Funcom CEO Rui Casais, the dev team is working in cooperation with nVidia in order to deliver cutting edge graphics as well as for creating co-promotional opportunities between Conan Exiles and NVIDIA's "The Way It's Meant to be Played" program. The two teams aim to push the visual and artistic quality to the limit according to the same press release.
Although the community immediately noticed that the rough, gritty visuals true to the world of Conan weren't quite there yet, it's worth noting that this is only pre-alpha footage.
Joel Bylos already addressed concerns about the game's "soft" look on Twitter…
… but if you have more questions about the game don't hesitate to tune in for his Reddit AMA today! It starts at 8pm CEST / 2pm EDT / 11am PDT. 
We're doing a Reddit AMA at 8pm CEST on Thursday with creative lead @joelbylos, where you can ask us anything you want about #ConanExiles.

— CONAN EXILES (@ConanExiles) June 8, 2016
Our Thoughts:
We were expecting this first gameplay trailer for Conan Exiles with high hopes, and it didn't fail to deliver! The game world already looks great in this pre-alpha version and we can't wait to see how it evolves. Judging from the partnership with nVidia and the way Funcom usually pushes its game visually, Conan Exiles is likely to be one of the more impressive MMOs at the time of its release from that point of view. We're really looking forward to more updates, how about you?
Sources: Conan Exiles ; IGN ; Funcom
Recent Articles Related to Survival MMOs
Multi-Million Dollar Funcom Investment Secures Company And Game Development Future
Vigor Roads has been Greenlit on Steam
Should Hunger be a Factor in MMOs?
Accessed Early: The Black Death Preview
Related:
Conan Exiles
,
Funcom
,
MMORPG
,
News
,
Sandbox
,
Survival
,
Trailer