Things are about to get frosty in Conan Exiles. Funcom today has offered up new details on The Frozen North, the upcoming free content expansion landing to the survival sandbox MMO for both PC and Xbox One players.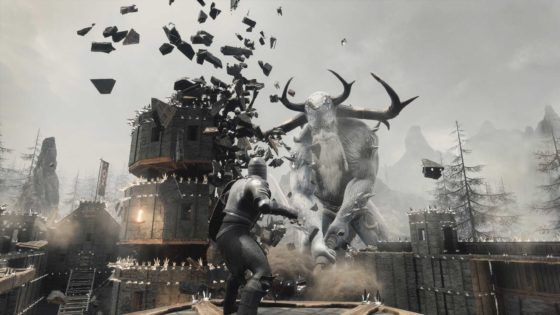 The Frozen North will introduce a whole new landmass to Conan Exiles, effectively growing the game's scale by 70%. As one would expect, The Frozen North is pretty chilly, so players should expect lots of snowy vistas and to dress appropriately or face freezing to death. Incidentally, the new temperature system works both ways, requiring players to dress for the scorching desert as well.
It's not all horrible frost in the new expansion, however. Players will be able to take part in new harvesting professions such as fish trapping, beekeeping, cooking, and even brewing alcohol which can help keep players warm in the cold. The new expansion will also allow players to become devotees of Ymir, the Lord of Storm and War, and will introduce two new dungeons: The Temple of Frost and The Black Keep.
According to Creative Director Joel Bylos, there's more than just what's new in the upcoming content update. "The team has also worked extremely hard to make sure this release brings with it significant improvements to core aspects of the game such as combat, artificial intelligence, and more," said Bylos in a statement.
The Frozen North blows in to both PC and Xbox One players for free on Wednesday, August 16th, which incidentally is the same date the game makes its arrival to Xbox One Game Preview. More information can be found on the this official site, and a trailer can be seen below.
Our Thoughts
Well, this is a pretty hefty update! Not only are we getting more materials, more landmass, and more enemies, Xbox One players are also going to get their hands on this survival sandbox for the first time! We're definitely eager to see how this new content update changes the world of Conan Exiles.
Source: press release
Articles Related to Conan Exiles
Newest Conan Exiles Update Lets You Climb the Walls
Conan Exiles Installs New Region Locks
Conan Exiles Preview
Related:
Conan Exiles
,
MMO
,
News
,
Survival Sandbox
,
Update