Servers are usually a part of the discussion whenever any MMO is in development, and survival sandbox Conan Exiles is no different. In the most recent dev blog, information about Conan Exiles servers as well as confirmation of mod support was detailed, giving players insight in to the game's official servers as well as private server setup.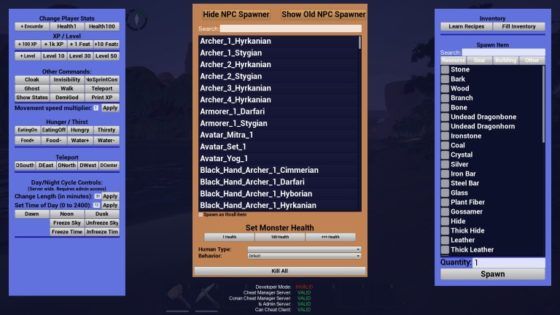 Official servers are broken up in to six different categories: Purist, Relaxed, Hard Core, Roleplaying, Experimental and Random. These filters are intended to help players find the kinds of community and gameplay they want. Official servers will be wiped every 30 days during early access to allow the developers freedom to experiment, but they will reconsider the wipe cycle as development moves forward.
Private servers, meanwhile, will not be subject to resets and will remain online perpetually. Private server setup is handled in-game, and players are able to adjust parameters of their private world like PvP, player health and stamina, experience gain and more from a GUI within the game. The adjustments in question will take effect immediately and will not require a server restart. The dev blog also talked about the server admin panel, giving players the ability to spawn any type of item or in-game asset they want.
Conan Exiles will allow full mod support on PC from the very start of early access, offering players an Unreal Engine tool for download. This tool lets modders create entirely new items or monsters, and will connect to Steam Workshop for easy mod management and distribution. Specifics of the mod toolset will be released "soon" according to the dev blog.
Our Thoughts
With the wealth of tools available to players and the variety of servers possible, it sounds like Conan Exiles will offer players a whole lot of options for experiencing the game they want. We're even more excited by the mod tools and mod support, and can't wait to see what the mod toolset is capable of.
Your Thoughts
What do you think about the server options for Conan Exiles? Are you interested in starting up a private server? What do you think about the game's mod support? Let us know in the comments.
Source: official site
Articles Related to Conan Exiles
Conan Exiles Building System Demonstrated in Video
Funcom Reveals Conan Exiles Early Access Date and Trailer
Conan Exiles Dev Diary Introduces Game World
Related:
Conan Exiles
,
Mods
,
News
,
Sandbox MMO
,
Servers