"The Dregs". Doesn't that sound like a fun place? Of course, if you're going to a place with that name, you're not expecting a cocktail and a hug but a dungeon full of potential goodies. That's just what's arriving with Conan Exiles Update 24.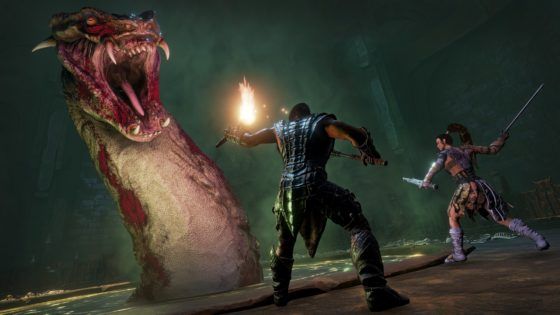 Entrance into The Dregs is unlocked through the completion of a gruesome ritual, and players can only expect things to get harder from there. The dungeon is described as home to difficult new monsters and puzzles to solve, along with an Abysmal Remnant to overcome at the end. For those who make it to the other side, the dungeon will offer up new armor, weapons, gear, and new crafting recipes for beating the boss.
Update 24 is now live in the game. A dev blog for the dungeon can be read at the official site, and a video showcasing the content is available for viewing below.
Our Thoughts
We expect dungeons in a world like Conan Exiles to be brutal in both challenge and theme, and it would seem like The Dregs delivers. Here's hoping that players who manage to explore the depths have a great time and we get to see even more dungeons arrive in the sandbox MMO.
Source: press release
Articles Related to Conan Exiles
Conan Exiles Update 22 Adds Dyes and Announces Exploit Hunters
PAX East 2017: Conan Exiles Updates Discussed
Conan Exiles Preview
Related:
Conan Exiles
,
News
,
PvE
,
Sandbox MMO
,
Update