…but wait, isn't this month January? Why yes, yes it is. In spite of that, the Conqueror's Blade beta is indeed slated to kick off this month according to an announcement made by developer Booming Games.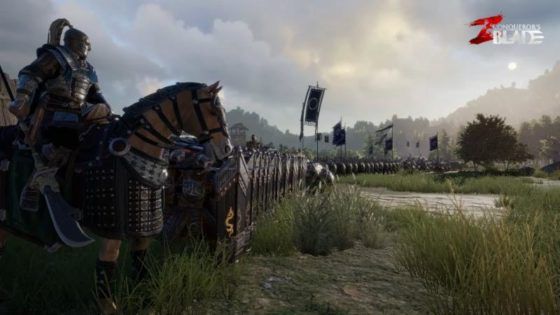 While the announcement doesn't provide a firm date for the beta test, it does state that testing will feature active clan wars with territory borders expanding or receding based on how battles in the game play out.
The announcement also features a closer look at its "Big World" map which players will need to…well…conquer. According to the announcement, the devs of Conqueror's Blade have taken great care to consider geography in designing the game's world and herald features like a day/night cycle, weather systems, and land features that can have an effect on the travel speed of units.
Of course, no conflict is complete without a resource chain, so players of Conqueror's Blade will first need to occupy areas or cities that offer ways to train armies or create equipment. Luckily, spaces on the map are replete with resources to help players build a force at every stage.
Interested players can apply for a spot in the beta on the game's website. You can also take a look at the "Big World" of Conqueror's Blade in the trailer below.
Our Thoughts
Well! That's quite a bit sooner than we expected, honestly! We're certainly intrigued by how Conqueror's Blade battles will play out and are looking forward to seeing more information on that front as well as a more specific date for the game's beta test.
Source: press release
Articles Related to Conqueror's Blade
Medieval Army Sandbox Warfare Coming Soon in Conqueror's Blade
Conqueror's Blade Game Page
The MMO Alpha and Beta List
Related:
Beta Test
,
Conqueror's Blade
,
News
,
PvP
,
Sandbox MMO