It would appear that the last closed beta for Conqueror's Blade was a reasonably solid success. Developer Booming Games offered up a variety of new details in its latest press release, including the number of participants in its latest round of beta, some additional game details, and word of a new Conqueror's Blade European test session.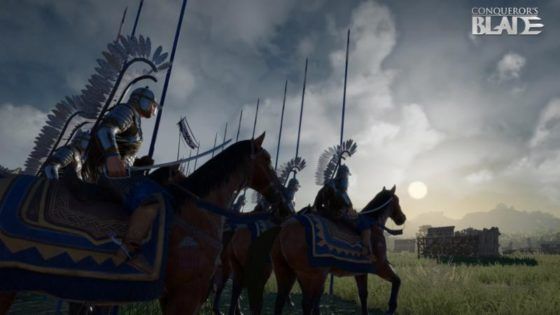 The so-called "European X Test" will take place this March and will be based (obviously) in Europe. Players from other areas are welcome to connect to the test as well, but may encounter connectivity issues as a result of the test's location. Additionally, those who are already included into the beta will not need new keys to enter this planned set of testing.
As for the beta test last week, Booming Games heralded over 10,000 total players from over 100 countries who joined in the massively multiplayer war effort, with peak concurrency breaking over the 1,000 player mark. 219 Houses took part of the Kingdom War event that occurred during the test, and 23 in-game countries were founded. According to the game's producer, the testers also provided good advice that will be leveraged for the European test.
As is often the case with these announcements, the devs also included some new gameplay details as well. The first relates to weapons in Conqueror's Blade, with can be unlocked at Trainer locations and have their own individual skills. Only two normal skills are on hand at first, but players can ultimately get three normal skills and one Ultra skill as they level up.
The second is related to Legendary Legions, which are powerful unit groups that can only be unlocked after players reach a certain level and harvest rare elements. Four Legendary Legions are currently in the game: the powerful Winged Hussar cavalry; the Musketeer legion that unloads high damage against a single heavy armor target; the disruptive Guanning Knight cavalry; and the invincible but slow-moving Iron Buddha melee Legion.
Our Thoughts
Sounds like the Conqueror's Blade test went pretty well overall. Over 10k players is certainly not a bad start to closed beta and we hope the European test in March will be similarly active, if not moreso. We also hope that the game's servers will be up to the task if they decide to further widen the testing pool gates.
Source: press release
Articles Related to Conqueror's Blade
Medieval Army Sandbox Warfare Coming Soon in Conqueror's Blade
Conqueror's Blade Game Page
The MMO Alpha and Beta List
Related:
Closed Beta
,
Conqueror's Blade
,
MMO
,
News
,
PvP
,
RTS