Veteran developers from all sorts of triple A games have come together to form development team called Counterplay Games. They developed titles such as Diablo III, Rogue Legacy and the Ratchet & Clank series. Today, they unveiled their latest project, called Duelyst. The game is a tactical turn-based strategy game for PC/Mac and Web with a heavy focus on competitive online ranked play. They also launched a Kickstarter campaign, lasting for a total of 30 days. A total pledge of $68,000 and so far after 1 day, they already raised $32,390.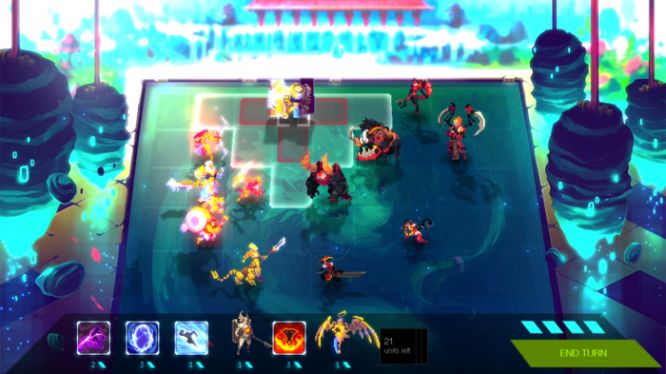 An alpha launch is stated to come out Q4 2014 and the game features excellent graphics, sprites and artwork. Gorgeous landscapes filled with rich and complex characters all with untold stories and unraveled histories. The focus will lie on squad-based combat on a tactical map with fast-paced multiplayer 1v1 battles where you can only claim victory if your opponent's general is defeated. At launch, the game will sport 5 different factions to choose from and a whopping 100+ battle units and spells.
The Key Features:
Battlesquad customization. You can select your own roster of battle units and spells, each with different stats and abilities that interact differently within combat. No duel you play will ever be the same
Skill-based Tactical Combat. In Duelyst, it's all about positioning. To understand what your units are capable of and anticipating what your opponent will do so you can counter their every move.
Real-Time Gameplay. Duelyst will have multiple game modes players can choose from, including Ranked or Normal games, where each turn lasts about 90 seconds.You can also practice in the casual mode or practice mode if you want to try out new strategies.
Comptetitive Multiplayer. Go head-to-head with equally matched players to test your might on the battlefield!
Unlockables. Winning in multiplayer matches grants you new battle units to play with, spells to choose from and alternate skins for your units. The more time you spend playing, the more you unlock.
This game looks extremely promising to me. A great concept for a game with a great team to drive it, I have no doubt it will reach the pledged goal, and dare I say it, go even beyond that. The artwork looks awesome and personally I can't wait to try out the game for myself. What do you guys think?