Diablo III turned three years old today–a celebration that demands a "moosterious" special event. (Was I trying to hard there? I think I was.)
From now until May 21st, cows have taken over the map. Players that activate Cow Level portals can travel to the cows' planes and battle them for unique loot and experience.
Cows in Diablo III
From the battle.net developer's blog:
We've recently herd rumors of an invasion. Not one of a demonic nature, mind you, for those we are quite accustomed to. No, these rumors allege that townships throughout Khanduras are being overrun by bipedal, bardiche-bearing bovine who are luring weary adventurers to the proverbial slaughter through moosterious orange portals.
Many of you have expressed fear. Some have asked if you should moov your families. To this we say: Hold fast. There is no cause for alarm. We've seen the so-called "evidence" being pastured around local inns and, after thoroughly investigating all reported sightings, can cowfindently state that this is nothing more than a clever hoax.
Though Blizzard seems to deny it, something is definitely amiss in Sanctuary. The "cowpocalypse," as it is being called, is reminiscent of a similar event in Diablo II–where bipedal cows ran rampant across servers. A special video for the event can be seen by clicking the statue's face near the dev blog's banner.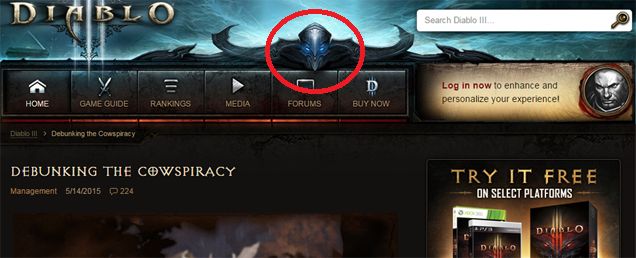 For more on Diablo III, special events, and Blizzard, stay tuned to MMOGames.
Related:
Blizzard Entertainment
,
Diablo 3
,
Event (In Game)
,
News
,
Update