There's another new content update for the vehicular multiplayer shoot-em-up Crossout today. Crossout Update 0.7.20 is adding a new map to the game's Cargo Race mode, a unique new Brawl mode, and a variety of other new additions.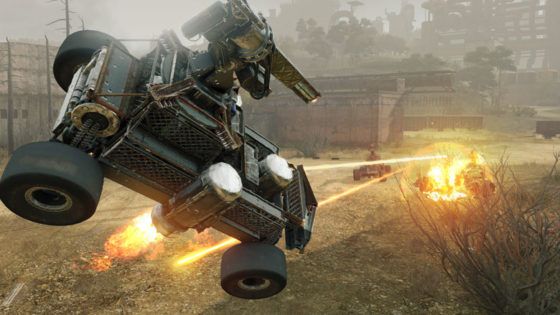 The new Brawl is known as "Big Black Scorpions", which will put every player in a fast and light vehicle mounted with vertical accelerator jump jets and the powerful Scorpion weapon capable of slagging vehicles in one shot. The challenge; take out as many enemies as possible before time runs out. The winner receives scrap and a DIY container as a reward, while all participants get fragments of special rewards like other Brawls.
For those who prefer PvE, Cargo Race is getting the new Two Turrets map, a location described as loaded with military hardware and artifacts for enterprising Survivors to scavenge. The new map has a mixture of tall rocky formations and various industrial buildings as shown in a brief video for the update.
Update 0.7.20 will also let players show their factional pride with new Faction Flags, increases the number of players able to participate in Easy raids to six, and adds a host of other adjustments to weapons. The complete patch notes are available on the official site.
Our Thoughts
While the new Cargo Race map looks interesting enough, we're really quite interested in the new Brawl mode, which sounds a bit like the vehicular version of the Golden Gun game type in GoldenEye 007 for the N64. Whatever Crossout players choose to play, we hope this new update brings a healthy dose of fun.
Source: official site
Articles Related to Crossout
Crossout Updates Raid Difficulty, Parts, and Maps
Crossout Clan Wars Brings Weekly Competitive Tournaments
Heavy Metal Machines Looks to Enter Esports
Related:
Crossout
,
MMO
,
News
,
Update