Has Mad Max given you a hankering for the post-apocalyptic? Gaijin Entertainment, award winning developer of War Thunder, has teamed up with Targem Games to bring us an all new free to play team-based post-apocalyptic vehicle combat MMO called Crossout, currently in pre-alpha on the PC.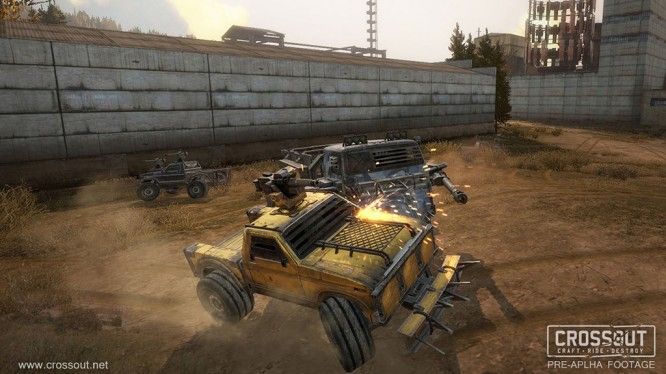 Crossout will be all about building, upgrading, and customizing spiky armored-vehicles and using them to battle with other players in a kind of vehicle edition of Robot Wars. Players have access to a vast range of parts from nimble buggies to heavily tracked off-road vehicles with seemingly endless possible combinations when it comes to player creativity. Players will be able to create their own advanced parts and auction them in game on the marketplace, and will be able to sell parts gathered in battle to other players.
The combat portion of this brutal new vehicle combat game sounds downright awesome. You can affect another player's vehicle's performance by destroying any part of their machine with a huge arsenal of weapons available. There are chainsaws, power-drills, machine guns, rocket launchers, flying drones, and stealth generators.
Check out Crossout's official website to sign up for the latest information and get the opportunity to be among the first participants of the game's Closed Beta test when it arrives this Summer.
Related:
Announcement
,
Crossout
,
F2P
,
Gaijin Entertainment
,
MMO
,
News
,
Targem Games
,
Vehicle Combat