A press release from Gaijin Entertainment and Targem Games has announced that Crossout early access is now available on Steam.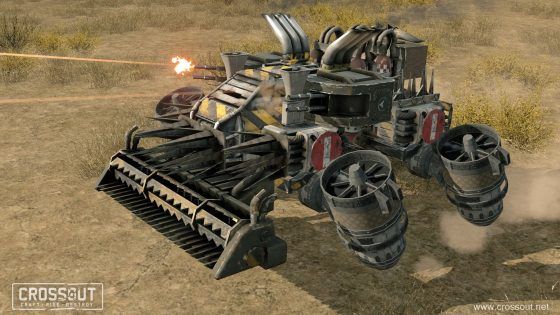 The post-apocalyptic vehicle combat MMO is now available for closed beta access through purchase of a "Westland Warrior" pack, which includes the 'Bloodhound' armored vehicle equipped with two powerful Sledgehammer shotguns, 2000 in-game coins, an exclusive character portrait and special dark-red paint. All of the in-game items will be available immediately, and will be re-issued to players when the game enters open beta later.
The current build of the game now includes a variety of PvE missions such as a convoy escort and heist mission, and introduces a tenth map to the game with Map Control 17, described as "an open and spacious map" that favors high-speed, long range and players who strike first.
The Westland Warrior pack is available for $29.99 through the Steam store, and a new video showcasing Crossout's convoy escort mission can be seen below.
Our Thoughts
Crossout is one of those games that piqued our interest when we previewed it at both PAX East and E3 this year. We're very excited for the game's continued progress and look forward to hearing what players think of this unique vehicle-centric MMO.
Your Thoughts
Will you be picking up an early access pack for Crossout? Are you waiting for open beta? Give us your thoughts in our comments section.
Source: Press release via The GG
Articles Related to Crossout
PAX East 2016: Crossout Preview
E3 2016: Crossout Preview
Crossout Details Vehicle Specifications
Related:
Crossout
,
Early Access
,
News
,
Steam