The genre of post-apoc vehicle-based shooters is one that hasn't seen a new game in a fair while, and certainly isn't a type of game consoles have seen in what feels like years. That's about to change with the announcement of the Crossout launch on PC, PlaySatation 4 and Xbox One.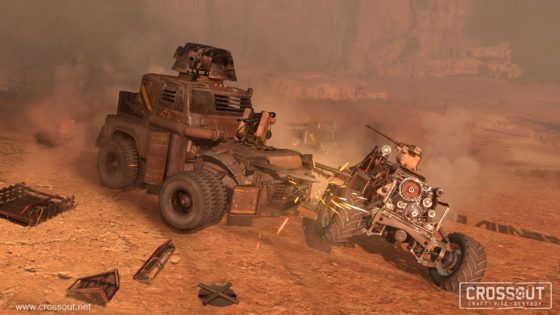 Set in the year 2047 at the end of a mysterious viral outbreak, Crossout is a free-to-play MMO that lets players create their own vehicles with a wide assortment of parts, accessories, and of course weapons. To date, the game's closed beta has yielded over 65,000 unique custom design blueprints, with hundreds of thousands more vehicles built by players according to the announcement.
The game's launch will also introduce a new Steppenwolfs faction to the game. Unique types of weapons like guided missiles, long-range guns, and deployable miniature car drones are also being added, along with mechanical legs for vehicles to use.
Crossout will officially launch on Tuesday, March 30th. Those who pre-order one of two offered Founder's Packs will get early access to the MMO today. More information can be found on the official website.
Our Thoughts
Crossout could be something of a sleeper hit for players on PC and console. With the depth of customization options and the sheer, explosive enjoyment of taking a car out into the wastes and blowing up as much stuff as possible, this MMO may just become a favorite for a lot of people. We're definitely interested in trying this one out!
Source: press release
Articles Related to Crossout
Crossout Clan Wars Brings Weekly Competitive Tournaments
E3 2016: Crossout Preview
The MMO Alpha and Beta List: May 12, 2017
Related:
Console
,
Crossout
,
Launch Date
,
MMO
,
News
,
PC