I know I'm not the only one who has been patiently watching the Crowfall counter for the last several weeks. When ArtCraft announced their project they promised us that Crowfall would be a different experience than we were used to. At the time it certainly got our interest. Since that time the developers have given us regular tidbits about what separates Crowfall from the crowd. At this point we have a general idea of what to expect from the title and boy are we excited. Whether Crowfall will live up to expectations is yet to be seen, but we are hopeful.
Now that the timer has expired ArtCraft has announced the launch of their Kickstarter for Crowfall. In less than an hour the crowdfunding project has already raised over $100,000USD of its 800,000USD goal. We expect that the goal will be met in a matter of a few days, possibly sooner.  At the current rate the team  will reach their goal in less than 24 hours.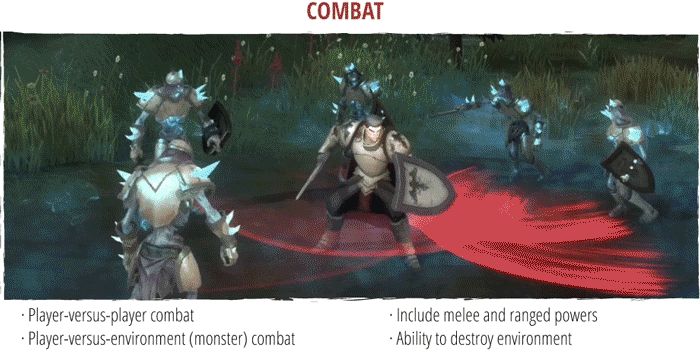 Kickstarter isn't the only big news coming from the Crowfall camp today.  There are plenty of other big reveals in today's post, including the first ever gameplay footage for the game. ArtCraft has also revealed the remaining three Archetypes for the game, the Champion, Druid and Ranger, bringing the total Archetype count to twelve. Additional FAQ's in regards to  Strategy Layer, Character Advancement, Kingdoms & Campaigns have also been posted.
To celebrate the release of their kickstarter, at 2pm CST 3pm EST, Artcraft and Omnom Workshop will be live streaming the sculpting of the Guinecean character model via their official Twitch channel.So it this the end? The team says no. ArtCraft promises that we will continue to receive a plethora of updates as the game continues it's development
Moving forward, our intention is to keep up the same level of communication — actually, that's not right. We intend to increase it. We want our community to be our partners in fulfilling this vision. The focus of the conversation will shift, now, from "what are THEY building?" to "how should WE build this, together?"
To read the update for yourself, please visit the official website.
Related:
Crowfall
,
Kickstarter
,
MMORPG
,
Update