The latest Crowfall Founders Update has been posted and it outlines a shift in development priorities along with the debut of a new archetype, the Guineacean Duelist.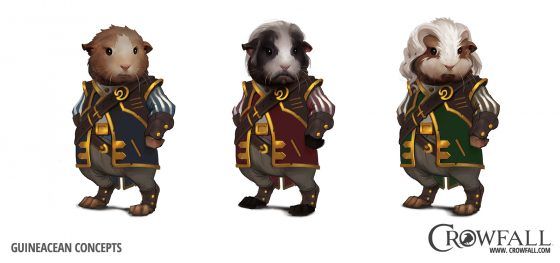 The post details the developers' decision to move focus away from resources and capture points to building a larger game world. The team will now be working on increasing the world size to hold a larger amount of players with seamless zoning and consistent framerates of at minimum 30 frames per second. Resource spawning, crafting, and improvements to skills, chat and team selection will be focused on later. The post also offered up the concept art for the Guineacean (pronounced "guh-NEE-shun") Duelist archetype, though it didn't offer any other details.
The schedule for testing is still up in the air, as the developers have said they don't want to set people up for disappointment. "We've learned that it's better to stick with our usual refrain: we're working on everything as hard as we can, and we'll get it into your hands to test as soon as we possibly can!" states the post.
Our Thoughts
We are awestruck by the high style and adorable design of the Guineacean Duelist, and we're definitely eager to hear more about the archetype. While it can be a bit disheartening to not receive any hard dates for testing, we also completely appreciate the update and understand the direction of development. Having a fun game to play will only work if the base technology works itself!
Your Thoughts
What do you think of the Founders Update? Do you like or do you love the Guineaceans? What are your thoughts on the development focus change? Tell us in the comments section below.
Source: Official site
Articles Related to Crowfall
Speed Round: Kickstarter Champions – Crowfall vs. Star Citizen
ArtCraft Parters with Travian for International Distribution of Crowfall
Crowfall Q&A Video Outlines Development Tracks
Related:
Crowdfunding
,
Crowfall
,
Indie Developer
,
News
,
Update